Doug Ord, faithful husband, father, friend, Toronto Police Constable, active Knox worker and colleague of KWM family.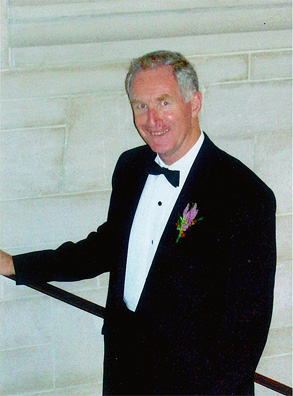 Doug Ord went home to be with his Lord on Christmas eve, 2011. Doug died peacefully, surrounded by his family. He will be missed for his courage and amazing faith and joy in the midst of his difficult last few years. He will remain alive in our hearts and his amazing support of Knox's missionary family will not soon be forgotten. Remember Maureen as she grieves her amazing life journey with one of God's choice servants. A memorial service was held at Knox Church on Saturday, January 7, 2012.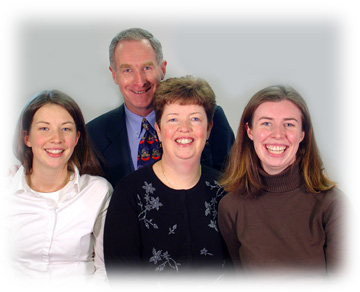 Tributes written online
Fania Thompson:
It was a blessing to have many years of fellowship with Doug, Maureen, Heather and Sarah. Doug's smiles brightened our days, and his gentle disposition was a sure sign of the Lord's grace in him. The Lord bless the Ord's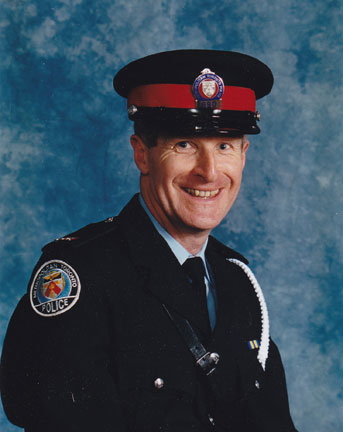 Rosemary Walker:
It is not hard to find words of tribute to our dear brother of many years, Doug Ord. Doug's solid Christian faith was backed up by countless good deeds, often carried out with a smile and a twinkle in his eye. One evening, Doug came to speak to our International class dressed up handsomely in his policeman's uniform, including his gun. He informed our students about the Toronto police force and assured them that the force was there to help the community in various ways. It was a tribute to his gentle, out-going friendly character that, towards the end of his career, he was assigned to public relations for the police force and related to different ethnic communities in Toronto, particularly the Filipino community. Doug even learned some Tagalog and went to visit the Philippines with Maureen. For many years, Doug was deeply involved in many aspects of the life and ministry of Knox Church. At the coffee hour after the morning service, you could count on Doug to reach out to newcomers and to make them feel at home. He was a great team member, teaching English as a Second Language, serving as a respected elder, and on the International ministries committee. Several times he served up delicious home-made soup at the coffee hour, which encouraged the internationals and others to feel at home. He was very faithful in church attendance over the years, even when, in his last months, it meant making a special effort to be there. Through the years, he and Maureen were always ready to receive the teachers and students of the International Bible Class in their home and back yard for international buffets and wonderful times of fellowship. Doug always led the family devotions after the meal. On the personal side, I remember Doug as the one friend from home who tried to visit me on the mission field when, in 1977, he spent a month serving with Africa Inland Mission in Nairobi, Kenya. For some reason, his flight to the Comores didn't materialise, but I did get a chance to meet up with him in Nairobi, where he treated me to a nice meal. In the last couple of years, I have enjoyed Doug and Maureen's hospitality more than once since moving to Montreal. Their welcome mat was always out for me. Doug's friendliness and openness were not abated even when he was required to use a personal talking typewriter to communicate. You always knew that Doug cared about you and your life, and you could count on having an interesting and useful conversation with him. Doug's quiet courage and patient good humour were all the more wonderful for us all to see as his vigour lessened. He has demonstrated and reminded us that God's grace is indeed sufficient for us in our weakness. Now he is with his beloved Saviour, and his patience and faithfulness are rewarded. He has strengthened our hope and resolve to soldier on with joy for the rest of our earthly pilgrimage, with eternity in our heart. We will dearly miss our brother. May we, like him, keep our eyes on Jesus, the Author and Finisher of our faith, who, for the joy set before Him endured the cross, despising the shame and is now seated on the right hand of the throne of God.
Scott Flemming
My Favourite story about Doug was from this past year. He was telling me about how he was preparing his speech for Sarah's wedding. He explained (through his tablet) that he was disappointed he couldn't give it, but was happy that Maureen could. He just typed simply, "I trust her." It really struck me as a newly married man what this means. He didn't say it out of neediness, or even necessity. It was out of a real place of mature love for his wife. Something I hope God gives me the pleasure of experiencing. Thanks for your encouragement and leadership Doug. Scott. My second favourite story was when he was quoting "My Big Fat Greek Wedding" once to me after church, also though his tablet. We were talking about how we were looking forward to a good bbq and he quoted that part from the movie when someone said loudly about the groom "you're a vegetarian?" and the whole room of Greeks went silent. We had a good laugh about that.
Ruth Thomson:
I did not get to know Doug personally, and I only wish I could have. I just saw him briefly at the Missionary Conference last November and was impressed by his courage. He was a remarkable man of faith by all accounts. May you, his family that he has left behind, know the peace of God which passes all understanding. I did write a comment earlier but it got lost in cyberspace. With love in the Lord Jesus, Ruth Thomson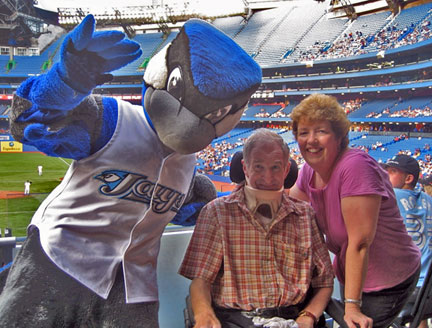 Elaine Esser:
Maureen, I have had the privilege of knowing you and Doug for a long time. I have fond memories of your visits to Owen Sound in the summer with the children and many Thai food dinners in Toronto at the favourite restaurant on Eglinton. May the Lord continue to comfort and encourage you with the hope of His promises and to grant you His Peace. I was in Singapore when Doug went to be with the Lord but was ever so grateful to be back in Canada to attend his memorial service in Knox. It was a marvellous worship experience. God Bless. Please come for a visit this summer once again. Elaine Esser
Ingrid & Neil:
We are so so glad to have seen Doug this past October. I am glad that Neil had a chance to meet Doug. Maureen, I wish to say "thank you" to you and Doug for being worthy examples for us younger folks to follow. Thank you. Ingrid (nee Godschalk) & Neil Miller
Robert Chesterman:
Dear Doug, We met and became friends at Knox Church over 35 years ago and, even though I have not seen you for a number of years now since moving out to BC, I have many fond memories of our friendship. We would often meet for lunch during the week when your shifts permitted. You would pick me up in your red jeep, sometimes with the top down in the summer. We shared our anxieties about whom we would each marry, the personal difficulties we were experiencing, your sense as a rookie police officer that it seemed like everyone was a criminal, and your experience of life before we met. I remember that you had been in a serious motorcycle accident and the insurance payments went toward your travels to India and New Zealand. I believe you drove a bus in New Zealand for two years before returning to Canada. I remember how we worked together to prepare for the first Vietnamese "boat family" that Knox sponsored—cleaning up the apartment next to the church, getting furniture and other provisions, going to the airport to meet this family who spoke no English. I recall the first thank you dinner this Vietnamese family offered to the committee . . . and my anxiety about all the strange foods and your calm confidence no doubt because of your experience travelling. I remember accompanying you on a visit to your mother in hospital. I remember the day of your wedding driving with you along the 401 as your "best man." I can see in my mind's eye the beautiful big house you and Maureen purchased on such a grand big lot! You were always a great conversationalist—you knew so many people and had travelled so widely that you were sure to know some person or place that was mentioned. You were always a low-key, reserved, understated guy who did not threaten in any way—I am sure this qualified you for the community policing work you did with Filipinos toward the end of your police career. But I also appreciated this super-decent, friendly, humble man who did his work quietly and without fanfare and did it to the best of his ability. I am deeply sorry that I did not maintain contact with you, did not email you more than the one time after I heard that you were ill, did not say goodbye to you. Goodbye, Doug. You were a good and decent man and I miss you. May God bless you and bless Maureen and your two lovely daughters and your grandson! If ever there is anything I can do for them, I will do so gladly and freely as I know you would have done. Goodbye.
Carol Herd:
Dear Maureen, Heather, Andrew, Sarah and Jeff, The memorial service for Doug today was truly beautiful and God honouring. A wonderful tribute to a loving husband, father, grandfather, brother, brother-in-law, uncle and friend to many. The filled church today would have made Doug's face 'light up'. Doug will be missed for sure. May the happy memories you all share comfort you and may the Lord be your strength in the days to come. Love always, Carol Herd
Alan Yu:
Last Sunday when I came to Knox and sit at the same place as usual. It struck me that Dong was just sitting there. You are such a nice man with gentle smile. Your presence at our prayer meeting, your soup, and your tiny talking tool will be missed. May God bless your family, Doug.
Peikang Dai:
In Memory of Doug Ord Peikang Dai, a stranger in distress in Toronto, Canada I miss Doug. I miss his sincerity with newcomers, his sincerity for evangelism and his sincerity in missions. I want to share my fond memories of Doug with Maureen, Heather and Sarah. Doug was one of the Christian brothers I met at Knox Church after I passed by and walked into this life-changing Christian community 22 years ago in 1989 after the massacre on Tiananmen Square back in Beijing. I felt lost in Canada and listless whenever I was thinking about the slaughtered peaceful petitioners back in China where I could have been easily one of them because Peking Union Medical College was only five-minute walk from Tiananmen Square I used to sit at the corner at Harbord and Spadina stopping the police cruisers to tell the officers that I liked the inscription "SERVE AND PROTECT" because I came from a country where the policemen were often out there to "SCARE AND PERSECUTE'. Some officers would look at me and tell me, "Thank you for reminding me of my responsibility to serve and protect" Some officers would look at me and scold me, "Is that all you want to tell me ! " Whatever their response, I just wanted to get the choking pain out of my chest. Sylvan Payne told me that we had a policeman at Knox Church. I was very curious to get to know him. My curiosity originated from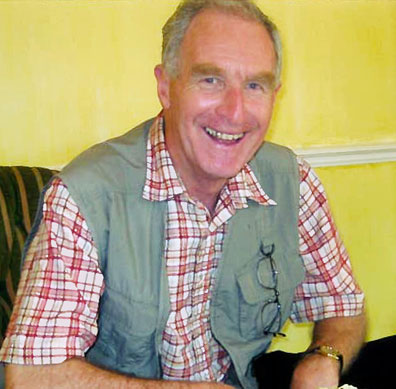 my life experience surviving the tumultuous Cultural Revolution and oppressive labour camp in China with my parents. A policeman walking around in a church in China is often an ominous sign that Christians will either be warned, harassed, beaten or arrested. At church , Doug was always sincere even though he often looked serious. At church, Doug was always serving even though his job was scary to many from foreign countries. After my graduation from Ontario Theological Seminary, I was asked to serve the international students at Knox Church, I invited members of the Knox Family to speak to the internationals students about their faith, their work and their family. I shared with Doug that I wanted to ensure that the international students who came to Knox Church would learn more than English as a second language (ESL). As evangelical Christians, it was imperative for us to expand ESL to "Evangelicals Serving Language-Students" (ESL)". Doug shared my vision and he accepted my invitations to speak and prepared extensively. I told Doug that the international students were interested in knowing what he was doing as a policeman and why a policeman would attend Knox Church. The students were always mesmerized when he shared about his faith and his work. Over the years, Doug spoke to multitudes of international students about his Christian faith at work. Once I asked Doug whether he could come to speak to students in his uniform. He said "yes" but that it had to be pre-approved by the Toronto Police Service. He told me that he needed a letter stating that he was invited for a community outreach. I was so touched by his humility and his diligent compliance with the Professional Code of Conduct stipulated by the Toronto Police Services. I did write the letter and Doug did come in uniform. Many students liked Doug in uniform and wanted to have their picture taken with him. He told the international students how to live safely in Canada, how to report a crime, how to call the police for help and when to call 911. He also told the international students about the story of an Iranian student. He was stopped on the highway by an OPP. He handed over his driver's license to the officer with some money with it, a common practice back in Iran. The Iranian student was charged both under High Traffic Act and Criminal Code of Canada for bribing a police officer. Between the lines of his speech, Doug softly conveyed the message stipulated in the Canadian Charter of Rights and Freedoms that Canada is founded upon the principles that recognize the supremacy of God and rule of law. Doug brought some "Many Faces and One Community" posters printed by the Toronto Police

Colin & Heajalee Kushnier:

Doug: Your strength and humility when you were physically weak is an example to us all. You will be missed, specially your gentle smile. Maureen: Your demonstration of what a Godly marriage truly is, is an example to us all. Our thoughts and prayers are with the families. Much love and prayers in Christ, Colin & Heajalee Kushnier

Sharron Brandt:

Doug and Maureen showed me a lot of kindness. They invited me to their home numerous times and even took me out to restaurants on occasion. Doug had a terrific sense of humour, and any time spent with him was unforgettable. My deepest sympathy to Maureen and the family.

(Jan 3, 2012) Glenn and Fern Byerly said:

Doug always made us feel at home at Knox. He was a friendly fellow and we appreciated that as missionaries that come and go. He had experienced many of those things that we had so was abreast of what God was doing in the world. We always enjoyed visiting with the Ords.

Mary Gorombey:

What a lovely, lovely man! So kind and gentle. I am saddened by our loss of him here on this Earth but Heaven I am sure is rejoicing! We will meet again.... Maureen, I pray you and your family continue to be comforted by our Saviour during this painful time of loss and grief. May the Lord ease your pain!

Lori and Guy Sinclair:

We have such wonderful memories of both Doug and Maureen, how they welcomed us to Toronto each time we lived there. And when we moved to Welland from BC, they came to Guy's induction service there too. My early fond memories were of Doug on our team for Visitation Evangelism. He was such an example of how to reach out to the newcomer and share his love of the Lord. He was never hesitant, never ashamed of the gospel, as he knew it was powerful to change lives, to bring salvation. Our sincere sympathy and support go out to Maureen, Heather and Sarah and their families.

Hanneke and kids:

What sad but also good news as I am sure he is with our Lord. What a precious person he was and he will be remembered for his kind and gentle spirit, his strong faith and witness to me and others. I know I will miss him when I come to Knox. May the Lord be very close to Maureen and the kids as he will have left a big gap in their lives. I will keep them in my prayers.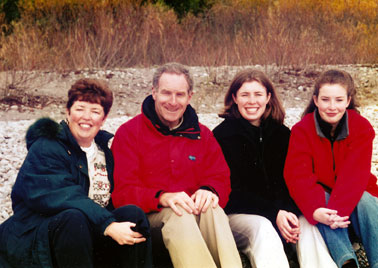 Dev and R:
EVERY time we think of Doug, we give thanks to God. We especially remember his incredible soup! Much love and prayers for Maureen and her family.
David and Angela Morris:
You have our sympathy concerning Doug's passing on Christmas evening. We have such happy memories of Doug when he came to the airport to pick us up with the Faramarzian family. He had a lot of driving that day and we appreciated his taking time to show a potential apartment for Ali and Rahi after a long airport drive through heavy traffic. We remember him as a faithful and wise servant of God and a great example to many. May the Lord continue to guide and comfort you all,
Rowena Stewart:
I have just seen your email and am feeling very sad - particularly for Maureen and the girls - but also that Doug had to suffer for so long - which he did with so much grace. He is with the Lord, that's for sure. A special man - we were so blessed to share a day with them in England, possibly just before he became really ill - will always remember it! Please convey to Maureen that Iain and I will be thinking of them and praying - remembering them on Saturday and in the months to come.
Fern Byerly:
He married the right woman. She was so supportive of him. Being a nurse she understood.
Craig:
Wow, that's sad, but triumphant.
Scott Masson:
I got to know Doug through our Christianity Explored courses. His warmth and gentle spirit always moved me, and he really was a dedicated servant. There is no higher praise for a man, and it was so fitting of him. 1 Thess. 4:13-18.
Margery Campbell:
It was good to get to know Doug better when he was teaching at ESL on Monday nights. We were all very sorry when he had to stop due to illness. What a wonderful inspiration of courage he has been. It was especially touching that he 'walked' Sarah down the aisle in his wheelchair. Also lovely he was able to see baby Ian. Peace of the Lord to you all Maureen.
XERGGYO:
Greetings from the mountains of Chiapas, Mexico. I want to send this message for all my friend and family in Canada. I find my best family in Canada in this ministry to the Nations, one of the person who say to me: you need to say not goodbye Canada, you need to say "See you again Canada"(Doug he said to me this expression last year at the international airport of Toronto, when I was to Africa). Now I need to say to my friend not good bye, SEE YOU AGAIN Doug. Doug he was one of my best teacher in English in the ESL class in Knox. Thank you my friend. All the family receive my greetings, and Happy New Year. Your Amigo.
Janet Archibald:
Doug was a very dedicated servant of Jesus Christ. I remember one time he mentioned that he had memorized certain Scripture verses while he was studying with the Navigators organization, and that one section of Scripture had guided him in particular in making an important decision at work. His faithfulness, diligence and attentiveness to the needs of others are an inspiring example to all. Many prayers are with you, Maureen, and your wonderful family.
Maureen Ord:
Thank you for sharing your thoughts and memories with us. You, our church family ,have been such a source of blessing to us. My husband was "one of a kind" and I thank God for the privilege of being married to him for 31 years. Love, in Christ, Maureen
Bob and Heather Hill: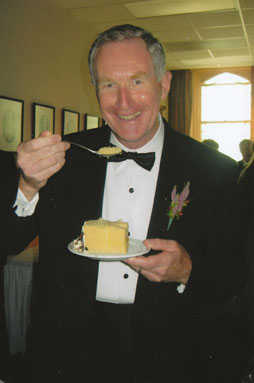 Our thoughts and prayers are with you Maureen, and your family. Although we have not been at Knox for quite some time, we have fond memories of you and Doug. We will always remember that cheerful smile that Doug always seemed to have and the joy of the Lord that radiated from him. May the Lord give you the strength and comfort that you need at this difficult time.
Art & Gini Downing:
When we think about Doug Ord, we are immediately transported back to a bitterly cold January evening when Doug, Margaret Avison, and Rev. Charles Huggins appeared on our doorstep. This was the Visitation Evangelism program in action - presenting the gospel or encouraging believers to get involved in Knox ministry. Down the years our lives have been touched and encouraged by Doug's faithful and committed Christian service and witness - but warmed always in our hearts by the memory of that first meeting.
Elaine Zancola:
Monday afternoons in the Knox front office belonged to Doug. He always had a great big smile, and truly enjoyed being a volunteer and giving back to his church. The last time I saw Doug, was the day before the Christmas dinner. I came down the stairs and could see Maureen down the hall working in the south kitchen. I turned the corner and started out the Harbord doors, and who was sitting in the front office…but Doug himself!! I was so happy to see him there and let him know how great it was to see him back in his old place! Just remembering his big, bright smile brings a smile to my face. My sincere condolences to Maureen; the girl's and the rest of Doug's family.
Don Nicol:
What good memories Doug has left to so many of us. I remember that morning some time ago when Doug rode his bike down to the Beach and shared, so matter-of-factly, about his Lou Gehrig's, as he struggled ever-so-slightly to open the creamer for his coffee. Doug always, unlike so many of us, thought before he spoke, so any slowing of his speech was not noticeable. I remember when he offered to take Xerggyo and me to the airport as we headed off to spend a couple months with Hanneke in Tanzania, and then thrust an envelope in our hands to treat Hanneke when we were there. His support of Knox mission family remains unsurpassed. Occasionally in life, some event of some person confirms the existence of a loving God. I am thankful to have known God better through the mannerisms, love and smiles of Doug. Thanks to a family that supported, nourished and shared one of God's great gifts to us all.
G & M: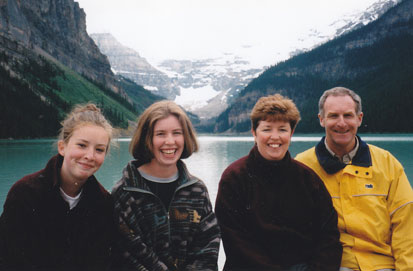 Dear Maureen, we want to express our sympathy and love to you and the family at this sad time. It was great while we were in Toronto to see you with Doug often at church. Your support for him and your togetherness through his illness was and is an encouragement to us. We give thanks for Doug's life and example. May you be encouraged to go on.
Albert & Samia Saif:
Words cannot adequately express our feelings about being separated, for a while, from Doug. We certainly miss him with his trade mark smile. As a friend and co-worker at Knox he really demonstrated his gift of servanthood with humility. One can borrow part of a policeman's motto by saying that he was born to serve. Samia and I will not forget Doug and Maureen fulfilling the role of his eldership as they ministered to us. We thank God for the example he and Maureen showed us over the past few months. We continue to remember you Maureen in our prayers for comfort and strength to face the days ahead. (He will wipe away every tear from their eyes... Rev. 21:4)
Carluci & Christina dos Santos:
It is with much sadness that we received the news of Doug's departure. He was always one of the most friendly and welcoming persons to us as family when we came to Knox and as we got to know each other. Later on, when his infirmity hit him, and progressed, the physical difficulties did not hinder his communication. Doug would always welcome us to chat, and with much warmth he would write questions about everyone in the family, Christina and the girls, my trips to Latin America, my work with the Mission, etc. It was a pleasure to work with him as an elder and hear his reports of the activities of other Presbyterian churches and the denomination at large which he was following up on. Seeing Maureen's smile on her face as she cared for him was also a source of inspiration to us and a reminder of the fidelity we vow at our wedding. May the Lord continue to richly reward you, Maureen, with much grace and comfort, particularly at this time. He who called you will also be faithful and guard you to the end! We are in NY right now visiting with family and friends, and are praying with you. Carluci, Christina, Isabela, Nicoli, and Hannah.
Karyn McDowall:
It was always a blessing to be his friend. He was always very warm and welcoming to new arrivals at Knox. He always had his beautiful smile with the light of God in his eyes, which always made you feel loved and special in his company. I will always remember his generosity getting me back and forth to Knox in times of public transit trouble. I was deeply moved and saddened by news of his passing. Love & prayers to Maureen, Sarah, Heather & all the family.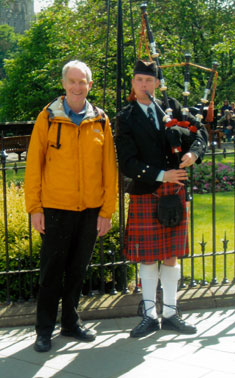 Ed Hoey:
I'm sorry to say I was unaware of Doug's illness and am shocked and saddened by this news. In our work we often met around Police Headquarters, and always, there was that easy smile. Doug's faith, love, care and generosity of spirit were evident to everyone. He was the living example of how we should live and walk with our Lord. I'm sorry I will be out of country for the memorial service. Please accept my sincere sympathy and know you are all in my prayers.
Gary Michener:
Dear Maureen, Heather and Sarah: Our condolences to you. I know that Cathie and I will miss Doug. He always welcomed us at Knox.
Beryl Fleming:
So very sorry to hear of Doug's passing. We know he is with Jesus. I first met Doug many years ago at Knox. May God grant peace and comfort to his family. You will miss him so very much. With our love and prayers, Bob & Beryl Fleming, Barrie, Ont.
Jessie Henthorn:
In all my years as a nurse I have never met a person who has passed through a long-term illness with such grace and courage. He has been an example to us all, a shining faith, a smile and an inner light of joy which made him a pleasure and an inspiration to all he met. He will be so much missed by all who were lucky enough to know him. My sincerest condolences to Maureen and all the family.
Peter Matti:
DOUG, my prayer to all the family my children and I we will miss you ,DOUG, you was good and faithful friend over 28 years that I know you and NO matter what I will say , but we miss you indeed, our love and prayer to the family again, I have 1 verse from the holy bible Romans 8:1 THERE IS THEREFORE NOW NO CONDEMNATION FOR THOSE WHO ARE IN CHRIST JESUS.
Bob Herd:
I have happy memories of Doug, especially the many times I played Santa Claus when Doug and Willie picked me up with the old yellow police car. Doug loved the children of
different nationalities who attended the Christmas parties. Picture I have shows Santa being picked up by police.
Eleanor Crabtree:
It was encouraging to see Doug at the Missions Conference in Dec. Even though I didn't know him well, my heart goes out to Maureen and the family. Sorry I can't be at the Memorial Service.
Diane Dadian:
He was the cop and we had befriended a robber! It was back in the mid-70's. Doug was warm and human. Roger said on his way back to prison that he never thought he'd pray for a cop---well, he'd never thought he'd pray!---but he knew too well what the streets are like. Doug broke barriers and reflected his Lord.
Diana Wadsworth:
Maureen we have great memories of the gracious hospitality you and Doug gave the many times you had the group of Internationals at your home for one of our pot-lucks. Thank you!
There is hardly a week that goes by without some International student asking, "Where is that man in the wheelchair who always smiles?" Doug is greatly missed at Knox.
When Doug was teaching a Monday ESL class, I often gave him a lift home after the class. Each time, his parting greeting made me smile, "See you later." Yes, Doug, we look forward to seeing you later!
Ali Faramarzian:

I Am so sorry to hear that. He was a wonderful friend and mentor to us and will be greatly missed. Please accept my deepest sympathy. My thoughts are with you and your family.


Elsie Simpson:

One always knew that Doug had a great love for his Lord, since it showed in his every action and conversation, whether speaking with friends or strangers. Every individual was important to him and so witnessing God's love was very necessary to Doug. Visitors appreciated his interest in them. His radiant smile gave warmth to all. May the Lord bless you Maureen and family and Doug's family.