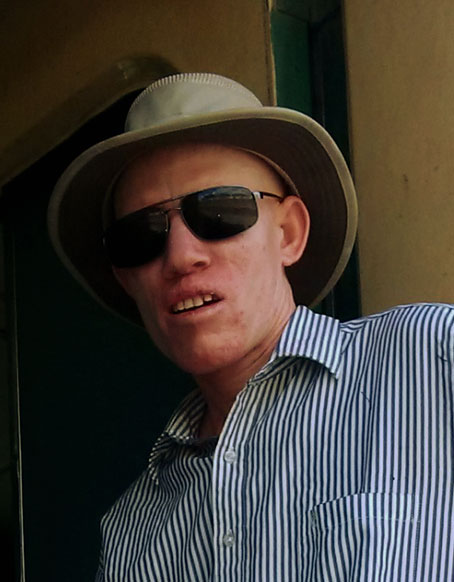 MY TESTIMONY
My name is Mahona but you can know me simply as 'M'. I am the beloved son of the King, my heart is for all people and I am redeemed by the blood of Jesus. I love Jesus so much; I love people with the same love from my Heavenly Father. If I know you…I love you. If I don't know you- I still love you with all my heart. My true Identity is in Christ, I am His!
I am a person with albinism. I was born in Tanzania. My mom was a Christian, my father was not
It was an astonishing situation on the day that I was born. Because although both my parents were black. I was white. My mother was insulted and verbally abused by my father who accused her of abandoning him in favor of a white man. There were conflicts day and night because of my physical appearance.
One day my father decided to kill me by giving me too much medicine. My mother escaped secretly with me in order to hide me from him. My father insisted that I would drive him and the whole family into hell. I grew up living with my grandmother.
When my grandma passed away, I went to live with my parents again. There was no change of attitude at home. My mom took me to primary school. Up until that time I did not know how to read and write. Two years later in standard four I had learned, but I failed in standard seven national examinational.
I started working in sisal rope making factory for three months. My parents were travelling and two days after they left, I received some information that both my parents had been killed in a bus crash. I missed the love of my mom, and began to live life of my own.
For a time I lived a dreadful life. Later on I went to live with one of my mom's friends, but the situation was very bad. I worked all summer on rope making, but received very little money. I found another school where I completed standard seven and qualified to go on Secondary School. In 2007. I went to live with my mother's family who treated me harshly. I was unable to get any rest there.
In my first year of secondary school, the school headmaster helped me to pay for my studies and everything about school, he could no longer be able to continue to pay for me in the second year but the Canadian missionary, Mom Hanneke, committed to assist me while I kept on living with my uncle. I shifted from my first school to another school after a very bad situation arose when some people schemed together to kill people with albinism. This practice has recently spread throughout the whole country of Tanzania up today.
I lived a lonely life from primary school to the first term of my secondary school. People, including my fellow students, did not feel comfortable being near me. This hurt made me fail at my first primary school. Which was complicated by my poor vision, hearing problems, skin problem which disturbed me! Until now I am still struggling with lots of surgery and the hearing problems are continuing.
After doing very well, and becoming the top student in my first form one examination, many people then approached me. Began conversing with me and became my friends. I continued my academic excellence year after year. When it became a time for me to say goodbye to my first Secondary school many of my friends became sad! I spent my school holidays with my uncle but the stigma and discrimination went on.
One day I visited my friend, and when I returned I found my uncle had burned my mattress, my clothes and all of my books. It was clear that my uncle wanted me to leave his home and find another place. I went to live with my friend. A few days later our form four national examinations results were out and they showed that, I achieved high enough marks to enable to continue on flourishing with high school studies. I was very excited to join high school. GOD Is GOOD!
Before beginning high school, mama Hanneke took me and bought everything required for my schooling. While I was in form five my uncle sent me a text message that he would kill me on the day I return to his home. I sent this message to this loved daughter of the Lord 'Hanneke and she invited me to stay in her home. God showed His love and compassion so much! Hanneke and her friends have made a huge impact on me and are definitely a part of who led me to know my Heavenly Father.
I am currently going to the university studying to be a teacher and after student teaching in July; I will be graduating in September 2016 with my first degree in Bachelor of Arts with Education. There is still the room in my heart for more to study masters' degree. And to go for Bible school, I want to live all of my life for Him through sharing His love and grace given to me by my Father by sending His only son to take my place on the cross. Sharing His love with the people gives me the joy and hope .
Truly I believe that Jesus Christ has finished work on the cross that has made me who I am and who I will be. I am His. It is His love and promise that will produce fruit in me and I am ready to follow and accept all and who I am in the presence of the one who loved me and created me.
PRAYER REQUEST
Please pray with me
For my safety and security here in the country. The killings of albinos are continuing up today. Last week the young albino was chopped off his body parties. There is no rest even if the albino died here in the country; witchdoctors unpack their graves and take the body parties. Please for me because I am concerned.
For good hearing. Now I am having hearing problems for many years. Pray that God opens and heals me.
For healing of the skin problem that there will be no any ongoing surgeries.
For God to open the way for me to study His word and to go for Bible school and for my master degree. I do not even fear even if the age gets older, I am ready to go to school to study.
'' Isaiah 41:10 reminds me so much.
Fear not, for I m with you, be not dismayed , for I am your God , I will strengthen you, I will help you, I will uphold you with my righteous right hand'''
Please pray that the problem of my eyes get the solution.
There is really a lot more about me than this, but if you would like to know me more we should probably just talk because I like to get know people. People definitely like family.
My contact
Email; pajo255@gmail.com
Phone; +255786222278