PRAISE GOD FOR WHAT HE HAS DONE, FOR WHAT HE IS DOING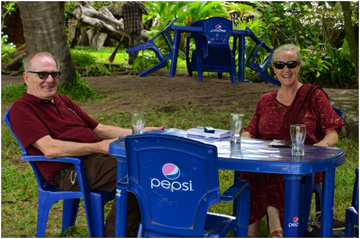 You will indeed go out with joy and be peacefully guided!        Isaiah 55:12
It was past noon on a cloudless day in Dar es Salaam, the biggest city in the republic of Tanzania, and a stream of passengers was making their way to the airport. Like so many other passengers being escorted to the airport, my friend Andrew escorted me too. While at the waiting place, it felt like we were at a political meeting since each group of passengers discussed about the trip to the other side of the world, not really equal feelings about adventure.
At the counter, the multitude of people was arranged in a proper line, I followed their steps until all the services were over!
 God helped me to make it! Kathrin, Mom and Don have reminded me of this over and over through the process of preparing for this trip, and I am grateful that I have been reminded of it again, closer to the date of our departure.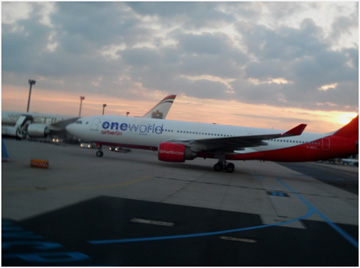 The time to fly had arrived. We made our way to the plane, and started flying high, nine hours until we arrived in Amsterdam in the country where Mom was born. My initial observation of this place was that the country is cramped with shops and markets, well developed infrastructures and helpful people who took care of foreigners. A lady in one of the shops guided me to the transfer desk. Houses and other buildings looked nice. The foreign sensation and unfamiliar faces of this country were rapidly taking up residence in my heart!
Our plane was too late to allow us to get on the second plane to Frankfurt. I was very nervous to be told that our 8:20 AM flight was cancelled; I felt a sense of horror as some passengers talked about needing to buy other tickets for a flight. I waited until the further and final news from the transfer desk. My calmed soul remembered the truth that my identity in Christ is unshakeable. He will lead me, no matter wherever I go.  God's word in Isaiah 55:12' You will indeed go out with joy and be peacefully guided;' has been so helpful on my adventures.
About one hour later and after a lengthy discussion at the transfer desk, they said it was not difficult for us to continue with our second flight to Frankfurt and they promised to come with us and see what could be done.  A few minutes later the plane for Frankfurt had arrived and they announced to board the plane. We flew approximately one hour until we arrived in Frankfurt. We had to cram into the bus to the place where we could wait for our luggage.
My suitcase arrived and then I asked a lady for the waiting area where I could find Aunt Kathrin. The lady did not appear to be able to speak at all. I thought my English was not well pronounced but she didn't know English. I shifted to another group of men and the same thing happened! No English but they told me I would have to speak German and Russian languages which they know!  I just heard them saying, Russia, German- no other words I could understand.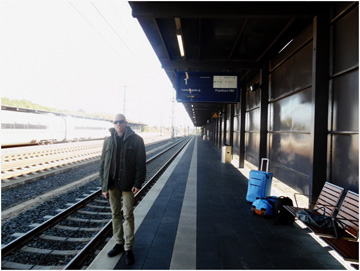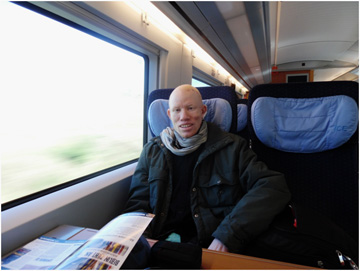 Language became a challenge but it did not bother me. Instead I had to continue to trust and depend on our God who promises good things for those who trust in Him. I prayed for His guidance since He is faithful, a teacher and lover of His people. I put myself in His hand and asked Him to teach me their languages. I think God was laughing Himself to see me wondering in every direction to ask for the waiting place. God is our way, His ways are not ours. I finally saw the other passengers walking from downstairs heading upstairs and I followed their steps. On our first flat step, Kathrin shouted out, Wow! Wow!  Wow! She was calling out my name several times. "I am so glad that finally you arrived here", she said. We hugged each other and she pulled my suitcase heading to catch the train to Runkel in Limburg district. She looked great and happy. I was very happy, really delighted. While on the way, Kathrin had lots of stories to tell me.
The train we took was so fast; we then hiked few minutes to the nearest place where Kathrin packed her car. We drove to the other side of the country and we came to a stop in the mid of Runkel where Kathrin's parents live.  We found Heide, [Kathrin's mother]
Mama Kathrin has a sweet name, Heide' everyone likes to pronounce, She could hardly insist her warmly welcome, hello, hello! I greeted her by using some of surviving greetings which Kathrin taught me [GUTEN MORGE- good morning, GUTEN ABENDS good evening GUTEN TAGGS - good afternoon] etc. then she smiled back warmly.  She gave me a warm welcome and she has lot of laughter. The language barrier and lack of understanding of the culture were something new for me - it's hard to keep trying when everything you hear is completely foreign. The Lord works in mysterious ways, and although I did not know what she spoke into her heart, I know that God was working.
Photo: Kathrin and her Mom', Heide' making a Christmas flower by using colored paper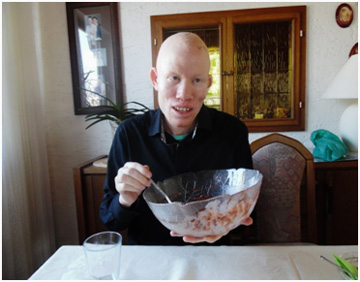 Mom Kathrin had already prepared a lovely and plentiful lunch of bread, butter, colored eggs, pudding, etc. for us; everyone enjoyed it and felt at home. When we had eaten, we, Kathrin and I crammed into the car and we landed five hours to Chemnitz where Kathrin lives and works. Before we left, Heide told us that we must have something to eat and drink on our way. Kathrin and Heide very quickly prepared the food which we had to eat on the way very quickly. Heide is always kind to everyone and someone can observe when looking on her face, her smile stretched across her face. You must feel amused and impressed to be at father and Mom Kathrin's home. The family spoiled and treated me by preparing delicious food.
Photo: I was finishing my pudding bowl--I am pudding Lover, Kathrin and Mama can tell you.
We were on our way from Runkel to Chemnitz; Kathrin gave me sweets and talked to me all the way in her rusty Swahili, Unapenda pipi? [Do you like sweeties?], we both had lots of stories. After travelling for about two hours we moved into heavy rain that went on for more than twenty minutes. The large part of the road could not be seen due to the amount of water splash. Kathrin was driving at a normal speed but we saw some of the drivers were driving at a dangerous speed. My heart beat as I thought that we would be done by the Lorries which used higher speeds than ours.
After travelling a couple of miles, we stopped at the nice supermarket where Kathrin purchased lots of spices. We arrived at her home at 6:15 PM.  Everyone was delighted to arrive safely although tired. I became a part of Chemnitz and Kathrin's hospitality from that evening.  Through this, I keep deepening my relationship with God. There is a big difference to how I see myself, before when I faced trials, I would give up, but since the time I have depended on God, nothing has been impossible.
A few minutes later, Kathrin called me. 'Hi again,' Kathrin smiled at me, this is your room, she said with a cheerful grin and looked at me pleasurably. Tears of joy were flowing easily from my eyes.  Ha –ha- ha! We laughed out loud when I told her that I am thrilled to be a part of Germany. Her answer was 'the best is not yet to come' 'you will enjoy the most special time of all, more than this evening', she said! This highly amused me a lot and put my head high eager to enjoy my special time there!
A WONDERFUL TIME WITH BIRGIT
It was the end of the week; Kathrin had invited one of her friends named 'Birgit 'for dinner. Before the dinner was ready, we Birgit, Kathrin and I sat together and we played lots of games on a round table, Trial Domino was my favorite game and I often won and defeated them.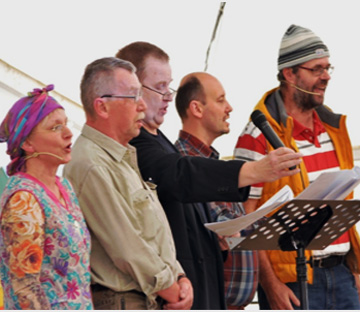 A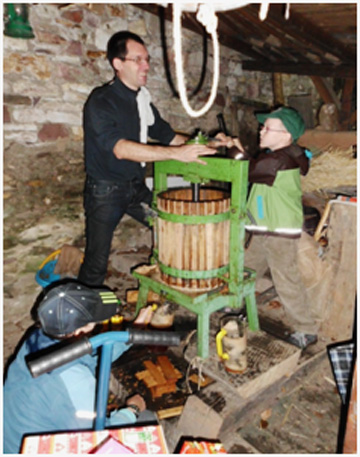 t that time I saw that there was amazing things in Brigit's heart and I couldn't wait to hear and learn from her. She was honest and open eager to learn from me in the same way.  I was overwhelmed to see her talking all the time about the word of God, she spends her full time travelling to the church to work at St. Jodoku's Church in Chemnitz, Germany. I really want to talk highly about this lady; I learned so much of her although she spoke a little English during our conversations. I had so many questions to ask her but she patiently answered them all in a confident and brave way
On Sunday that week, we were together on the Thanksgiving Day at the church. It was really wonderful to be there. During that day, I saw the beauty of people's God given talents. I saw different knowledgeable people with different talents like drawers, dancers, designers and teachers.  God's people are incredibly confident!
People's God given talents
 While talking to Birgit, I saw so much of God's love in her. She could talk fondly of her sister 'Kathleen' who works as a missionary in Dar es Salaam Tanzania, and how she doesn't get to see her often because of the expenses and distance.
I felt so much that God was working in so many wonderful ways in me while talking with her. I never thought that I would come to be used so easily in a person who grew up on the other side of the world in a culture different from mine. I felt so blessed to meet with such a gentle lady, in whom I experienced incredible kindness, passion, strength and gentleness in person! This has given me a clever sense and understanding of how big our Lord truly is!
I DREW ENCOURAGNMENT FROM HOW JESUS CHRIST HANDLED HIS SUFFERING ON THE CROSS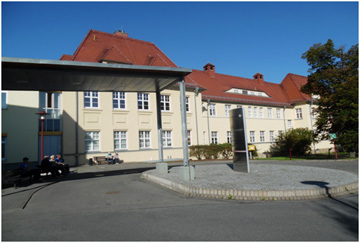 As soon as we entered the waiting area at the Chemnitz Hospital, Kathrin and I were greeted warmly by Dr. Zeiller Fabian and Dr. Tom Dressel. A short time later Kathrin introduced me to the secretary of the hospital who whispered the same warm welcome and told me that she will be praying for me during treatments. She had to see my passport and directed us to take the copy to reception. The lady at the reception said 'You are going to be healed' I was thankful and I could respond that..... If God has a purpose in me, then God can heal me! Kathrin said God will allow His purpose…be joyful, I am more sure and praying for you-Mahona.
The picture shows the other part of the Chemnitz hospital. It's fenced with comfortable materials where I sat even when I read magazines. My heart swelled when I was a recipient smile of those people but I felt helpless except I prayed silently for the patient of my every encounter
 What joy did I have when I saw God's people just prayed for me? Even If I describe in all the words in the world, I can't even describe what an incredible  peace and joy filled into my heart and strengthened me to be with these kind people who spoke with tenderness telling me how normal fear was and how much I have to believe that God was going to take care of me and helping the doctors and nurses during surgery!
The above is another building of the Chemnitz hospital,  within there are doctors' and nurses' offices. It is a very clean hospital.  The vehicle parking place is safe.  The parkers have to be identified through shoving their ID through the security machine!
 Immediately, Dr Tom Dressel wrapped me in white clothes and green sandals. And Kathrin prayed for me before being taken to the operating room. As I was wheeled in the chair to the operating room, a wonderful thing happened. I remembered the Bible verse that says God would never leave me nor forsake me! God reminded me of His love and that changed everything inside of me, so there was nothing more to fear! God is my Savior and His son died on the cross for my sins! So my joy and smile were hard to describe. It was incredible!
The surgical nurse began to set up things for surgery, and then Dr Zeiler asked me if I could like some music during surgery, my response was yeah!!!About that time the surgeon begun and I prayed and released matters into His control and I said, "I trust You, Jesus for I know you are my refuge!"
I could feel no pain but I just felt so stunned as if something has hit my brain…..The more Intimately I experienced God's power the more my faith and peace became wider than ever before! We exchanged lots of stories on that time and I found myself seeing that the surgery had already done well including of the Raiser treatments although the two treatments scheduled in two separated days! We had to go to the Ice-cream and enjoyed food and spaghetti Ice cream after each surgery being done!  I was thrilled. Kathrin can attest to how much I loved Spaghetti Ice-cream and her other food!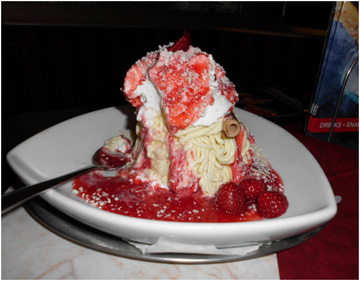 Nurses have been an incredible example in the life of many people. And It was one of the things that I learned the first time I got in the hospital. They are helpful, kind and love each other. Love truly shown and reflected God's love by loving themselves, loving their hospital, love of patients, and taking care of the patients is a living example of their beautiful community at Chemnitz hospital.
What indiscernible joy came in my heart to meet Christina Loefler, Ramona and Judy and Ute Boden as my beloved nurses and friends who have been with me in that strong situation in the hospital. The doctors and nurses told me that , I was the only patient who makes them proud and they loved me unconditionally.  Christina Loefler told me that , my heart is full of tenderness,  because it describes exactly the beautiful little person I am.' You are funny beyond what words can describe, your smile lights up my day, every day, I love to see you so happy. You excited both of us by the simple things we shared.' Christina said! I also made them laugh with my jokes and sensitive heart. Kathrin could say' Its fun to see you do it , your life is full of surprises , God made you special and unique He will use you in beautiful ways, I am sure Mahona.                        
From left, Christina, Ramona and Aunt Kathrin
My answers to all were….I know that God has great things in you; I can't wait to see Him continue blessings in you and all that you do. I love you all with all my heart and soul Thank you for being more my joy and happiness.
            THE JOY AND LOVE ABOUT THE PEOPLE YOU MEET WITH.
One of the very thrilling things is that, Christina Loefler had to invite me to her home to meet with her family… her two daughters Alexia who was 10 AND Maike was 7 years old, their cat, his name Freddy with a lot of mischief, He was 5 months old:] I was so thrilled although I did not visit her, but I promised to do so In God's time. I will never forget those beautiful memories with my friend Christina.  I hope I can see them someday... God's blessings to those kind people!
                                      I DEARLY LOVED, THE SURPRISE
It was a normal afternoon in Chemnitz, Germany but that afternoon the rain had stopped, but there still was no sun and it was cold. Kathrin and I drove to a nearby forest to tour a different part of God's creation. While strolling down the forest leisurely, we ran into the fenced part of the other side of the forest. There were a multitude of animals. We loved being in that place as we enjoyed to give some fruits to animals. We were joined by other people who enjoyed the same. Birds sang beautifully and some trees were taller than others and they provided shadows far which joined with the shadows of other trees. After awhile, we went outside and I got on the swing, I jumped my legs until the swing went higher and higher. I wanted to go over the top like others swingers did.
We went back to the house, I joked to Kathrin that I wouldn't want to go back home. I wanted to stay in a forest with those beautiful animals, birds and trees. That was funny!
 While sitting on the couch in the living room, I decided to play some nice music on the TV. I never wanted to go to sleep if I had not played the music and dance around the living room. I am not a good sleeper!! I found beauty in just about everything, I saw breathtaking landscapes, laughed until my stomach hurts, smiled until my cheeks were stumbling and danced and prayed. You can't believe but I mean it so much!
Our daily prayers were so encouraging and I miss them so much right now and I never forget them. I never forget the memory which reached and touched me in many wonderful moments!!
                            THANK YOU LORD FOR YOUR GREAT PROVISION,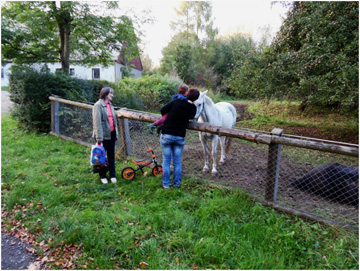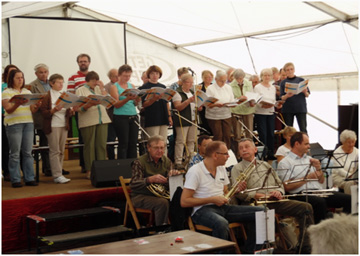 There was much to encounter God's love in Germany. It was Sunday again, on Thanksgiving Day, Kathrin and I crammed into her car early in the morning, heading to the St. Jodoku's church. There was a slight rain and the services were wonderful. The worshipers both elders, young people and the kids were shouting with laughter., jumping up and down, clapping their hands and praying together. It was that time when the kids' choir sang beautifully.
  After the first church service , Kathrin , other worshipers  and I had to cram into the ' fire fighter van' to travel some miles away to the big church which was destroyed during the second world war.
When we arrived, there was an unexpected move which raised a great concern with our exploration. We met with many people who came to explore the church.  It is during that time we met Simone, the lady who guided us by giving some explanation about the history of the church. Simone had to tell us the long history of the church until the time it was totally destroyed during the Second World War.
We were very excited and enjoyed time together with Simone, we became closest friends and she was bursting with big laughs. She told us, 'I love being here with you and I will guide through the church.
The experiences with the church were so wonderful because of all good services. I felt very grateful to be in Germany to share with awesome people great experience and memories. I had felt happy always because of the friendly people I met. This made me feel at home. After the church services the members could go to the eating place and have a cup of coffee, cakes, tea, and juice together. This is a taste of what it was like and what made me admire all the work that Kathrin, Simone and Birgit were doing for me and for the whole church. I felt like home.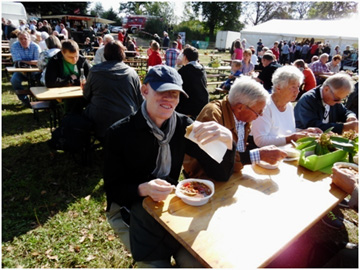 Photo: Fellow worshipers and I eating after services.
SIMONE'S SHORT STORY
Simone has believed in Christ since the time of her childhood and she did well at school. She continued to do well even in her university studies. Her dream was to be a teacher but the director of the university told her to choose one thing to deal with, whether to continue with her studies or to follow Christ. Not really to deal with both of them.
The spiritual welfare was oppressive on that time in Germany but Simone decided to quit her university studies only after six months of attendance. She did not want to leave the church and abandon Christ! Her faith in Christ led her to stay in Him rather than leaving Him. She said, being in Christ's faith is an opportunity to serve people in their spiritual needs.
This had not led her into painful time of suffering since her faith is in the Lord who promises to give our needs in every single day.' Each and every Christian would personal know God and His son and understand inside out that salvation is found through faith in Jesus Christ alone' Simone said
'She saw the unmatchable beauty of surrender of trusting God as her provider, protector and the savior. Her faith knew that everything is from God and Jesus. Since that time Simone had been serving people in the church and sharing the good news of Christ wherever God is leading her.
 Through reading this you should understand that, we human beings have our own plans, probably to have business or to further up our education. All of these are within human beings but not God's will. It's God's grace that has prepared human beings for what he/she will deal with in their lives. This is how God works in the world today.
As a consequence of the 2nd world war (1938 - 1945), that was started by the Germans and that we lost at the end, Germany was divided into 2 parts, the Western and the Eastern part. The frontier also marked the influence area of 2 different political systems in Europe. In the Western part, called Federal Republic of Germany (where I come from and where my parents are still living) a democratic political system was established. In the Eastern part, called German Democratic Republic, to which also Chemnitz belonged, socialism was established under the guidance of the former Soviet Union. Any religion, predominantly the Christian church, was suppressed. Though there was no prosecution comparable with nowadays threatenings of Christians in some Islamic countries, Christians in the GDR where always under intense observation of the government, performed by the secret service. Christians experienced consistently disadvantages in all parts of life. Even worse, children from a Christian family background were "punished" by not having equal chances in getting a higher school graduation and getting access to University. Many Christians spent time in prisons and a lot of them suffered from more subtle acts of suppression. One way of destroying lives often chosen by the secret service was to spread rumors that damaged the professional and private reputation of a person so that affected people became more and more isolated in their social environment. Not a few people decided to commit suicide in such a desperate situation. The frontier between Eastern and Western Germany was the best "protected" frontier in the world, marked by a big wall running through the country. On the Eastern side there was a so called "death stripe", a few hundred meters broad, in front of the wall. Since traveling free between East and West was not possible, a lot of people from the GDR tried to cross this border illegally, but a high number was shot by the attempt of passing the "death stripe" and climbing the wall. !989, after 40 years, the socialistic system in the GDR broke down, because thousands of people were standing up and went on the streets demanding freedom in the so called "peaceful revolution". Main initiators of this peaceful revolution were Christian communities, where plenty of people who disagreed with the political system assembled in their churches for the legendary "Friday prayers". After having finished the prayer people assembled on the streets for demonstrations. Though many of the participants were attacked and arrested by police and security service these weekly prayers and subsequent demonstrations continued for months. People still remember the calls on the street demanding "No Violence" and "We are the people". Though the government of the GDR had plans to quit this movement by shooting down the demonstrating people (police and soldiers were already put in place) it surrendered and the political era ended without a gunshot. That´s a wonder and it shows God´s work on a long term run. Since 1990 the Eastern and Western part of Germany are reunited. At the time when Simone was a young woman, not even 20 years old, she was put under pressure and had to make a very difficult decision that gave her life an entirely different direction. By confessing being God´s child and refusing to leave her Christian community she had to give up her biggest dream to become a teacher. At that time, in the late Seventies or early Eighties nobody could know if and when this political system with all its injustice will come to an end. To be honest, we all had no clue if we have a chance to experience a reunion in our lifetime. It seemed to be incredible and unrealistic. So Simone couldn´t know that there were "just" 10 or 15 remaining years she had to sustain her disappointment and just could wait for her chance to come. So in our talk Simone simply said "my world was shattered, because I had to give up my life dream." - nothing more. And I think it´s fine not to add something more, because Jesus is a brother who is suffering with us and who is also crying with us in our darkest moments.
TOURING AWAY FROM HOME
Over the next few days, Kathrin and I had another trip to the countryside about less than 25 miles away from the city of Chemnitz. It was still autumn and the weather had been favorable. Kathrin's plans were so confirmed that we have to walk across the river to see some of amazing scenes before my flight back to Tanzania. She began to make preparations as soon as she got back home from her working place.
It was morning after breakfast, the day was Monday. We began our breaking journey by prayers and conveyance over the road driving until we reached the resort site. The resort consisted of central hotels, a huge wooden structure with long wide porches. Beyond which were rows of small cottages, each of them usually occupied by a single family. Meals were served in some cottages. Kathrin ordered some of the delicious food as always.  We sat at the parlor of the hotel with our meal. My favorite one was spaghetti ice –cream!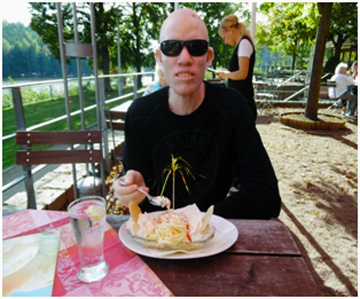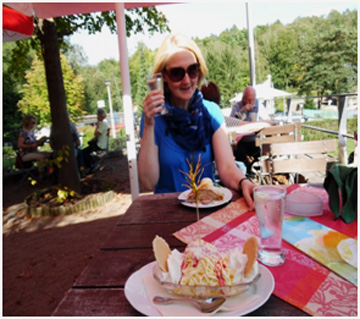 Photo: Kathrin and I enjoying delicious food
There also some people came to view the beauty of the river. We could not feel in solitude for we spent our time of exercising with the pleasant conversations and with the study of whatever beauty we saw.  There was not a moment of lull, Kathrin and I hiked to the note- board   to check out the time the boat would come that we could ride and start the nature tour.
Before the time, the boat had arrived; the captain came out of the bank. He looked pleased, his clothes where white-green in color. The boat fare had to be paid and the check was given back to the passengers. In a short while every passenger had sufficiently to ride on the top of the boat then moved to see the .
 fashions of the day. There was a bit cold Inside of the boat. I could hear no honking of the motor horns again. They served us with some coffee and biscuit. One of passengers with an agreeable figure and first class legs took some pictures of me and of Kathrin.
We continued to have fun and fantastic stories of our every eyewitness. 'Whatever route we take will be watchable' Kathrin was telling me often with full instructions. Kathrin and I had scarves around our necks to smooth the cold.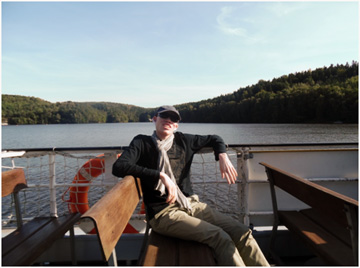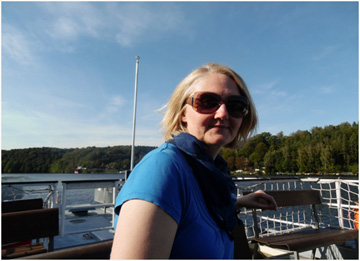 We finally got back to the starting point. Joy and happiness rose continually in response to the adventure. When we arrived home, Kathrin asked me, 'How was your day? My answer was, 'Oh! The day was beautiful' I enjoyed how changed the scene and the fresh weather. It was an excitement adventure. I really didn't want to return home again! She laughed out loud!
AT THE RIVER LAHN AND CASTLE OF RUNKLE
The last day of my stay in Chemnitz flew by in a flurry of lessons and recitations. Kathrin promised me a special treat the next day if the weather was nice. We had to leave a little earlier for Limburg that day so that I could be near the Frankfort airport for my flight from Frankfort- Amsterdam -Nairobi then to Dar and Tabora.
 When we had arrived at Kathrin's parents in Limburg, I was delighted to see how everyone was so eager to have me with a warmest welcome. We exchanged a nice look each other and everyone seemed special. Later on, Kathrin's daddy and I had to take awhile with a slight walk in his green garden. He could laugh so lovely with his hilarious conversation! We enjoyed fruits from the garden, apples was my favorite one so far!
During that time Mama Kathrin had handled so much of the food preparation, her cookies were tasteful cooked fairly well. We had breakfast together.
 After a few more moment went by, Kathrin and I refreshed and ready for the day. She drove with me to the River Lahn and the Castle of Runkle.
Hey, let me explain what I encountered at the place: The Runkle castle is believed to be built by Siegfried Von Runkle from 1440. It was built to safeguard the Lahn crossing. It is beautiful on the outside and unique on the inside.
The castle had a chapel, whereby giving Runkel its first church building. The rich details of the River Lahn is that, It is alive and ancient. Being in that place gave me a sort of delight and curiosity. It was so stunning to see the style of how the castle was arranged and contrast painted. Each part and chamber of the castle has a name and number detailed according to what activity had been conducted.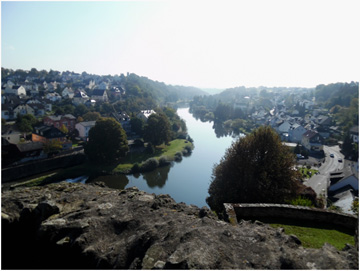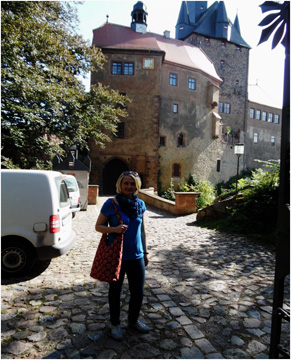 I have a list of important areas I saw within the castle of Runkel. Keep reading right now and you will be filled with content, peace, experience and you will get to know in deep and learn about all of the countless things this Runkle societies has been doing, there must be some scared place to pass through as it had happened to Kathrin and I while walking in the castle but our Mighty and intimacy  God had shown us His sweet Heart , love and hope in many wonderful ways  that made us to enter and walk even in the dimmest room in the castle., So, expect that you might be exhausted too. Take a look of how the Runkel castle pictures look like.
Between two round towers there is an outer gate with a pointed arch. In the upper story an apartment was built in later. A little bit behind, a two storied, half timbered house has been added. Above the gate there is a coat of arms of the family of Wied with the initials of the count Johann Ludwig Adolf zu Wied, Lord of Runkel and Isenburg 1714.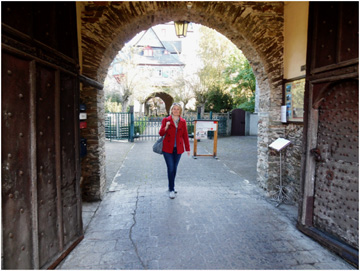 At first there was a gothic tower which was open behind. It was protected against outward attacks by two gates. The place between the two gates was built over later. The opening of the tower was closed and a round tower with stairs was added.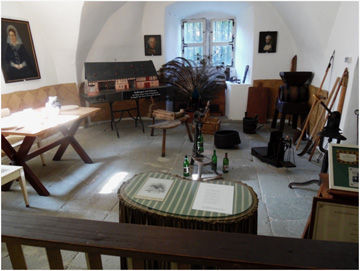 In the middle Ages the bay was important for the defense of the outer bailey and the castle-moat. On the left there is a boundary stone. It was used to measure the "tenth" that belonged to the masters of Runkel.
            The ground-floor is built of quarry stones. Above there is framework. In the middle of the building there is a tower with an octagonal ground plan. The roof has the form of a bell. The granary has three floors.
This Gothic building in the center of the castlehas a passage towards the court. You can see the coat of arms of Wied-Runkel and Eberstein-Naugard of about 1652.
Here the "Runkeler Rothe" vine was pressed and tasted. In the first room there is a model showing the castle of Runkel and the village in the Middle Ages. There are also some tools that were used for viniculture and drawings of the castle. In former times carts and carriages as well as agricultural tools had been repaired here.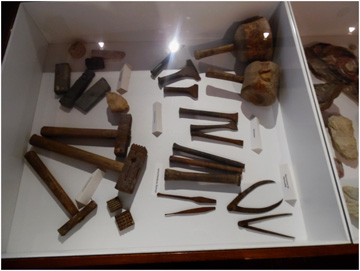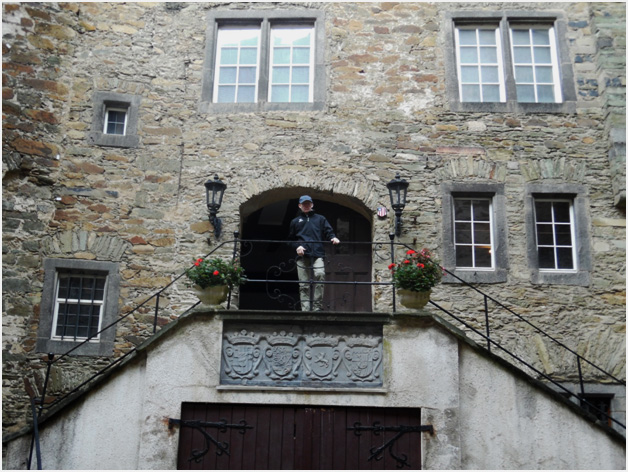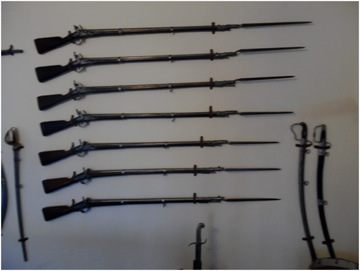 In the smithy the blacksmith used to shoe horses and to repair all sorts of metallic tools.
The masters of the castle had to protect the population.  Besides the defense in case of an attack, there was also the hunting and the protection of the fields because damage done by game and bad harvests could cause a severe famine.
The collection of arms and tools depicts life in these times.
The south tower which was built in the 15th century has a quadratic ground plan.
It is 26m high from the foundations to the upper platform. The access to the tower is only possible with the help of ladders. The strong cordon is built towards the hills at the Lahn for protection against attacks from this direction. In earlier times the embrasures were linked by wooden foot bridges. From north to south the wall gets about 6m thick.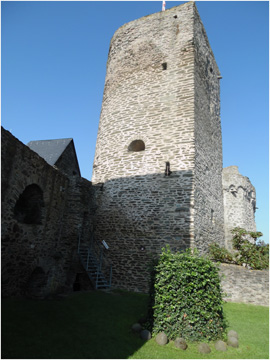 The dungeon is built in the middle of the rock that forms the foundations of the castle. The rooms were used by the guards but also to store the last reserves and arms for the defense. Last bastion.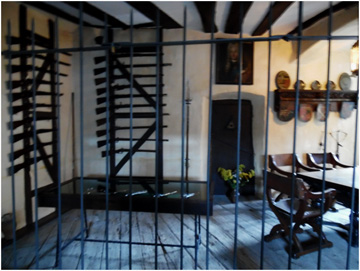 The tower was built to defend the northern flank against attacks from the castle of Schadeck that faced the castle of Runkel. This castle belonged to the courts of leiningen-Westerburg who were relatives of the counts of Runkel. The tower was probably built into the gabled end after 1288. It has a pent angular ground plan. The lower part of the tower is solidly constructed. Upstairs there are two rooms, one on top of the other, with barrel vaults. Above the wall crest there is a platform. ]
                                                                               IT WILL NEVER COME OUT OF MY MIND
The time was flying like crazy, finally time came for me to leave, sadness and animation mixed as salty tears on my cheeks. Saying goodbye to each other was the painful and the hardest and tough thing. Both Kathrin and her parents tried to make me stay longer but the time was just ticking as it was getting late. They made me promise to come back, both with a happy heart saying 'welcome back' When Kathrin and her parents were saying each other to me that they will miss me so much…. tears streamed on my face and I had to admit with a pain of leaving and with hope that one day I will see my second family in Germany including friends I made.
Photo: Me, Kathrin's father and Mother we hugged together
 As I got into the plane after our last coffee with Kathrin at the Frankfurt airport, my mind became so stuck, I heard a whisper that one day I will see the most beautiful smile and joy and will tease each other with my friends again. God is real. I am very excited to see what God has done and what will continue to do. I know that God is so good and is great! I must choose to value what God values, He will do the impossible! He promised me much; the verse reminds me more and more is ……
' For I know the plans I have for you, ' declares the Lord, plans to prosper you and not to harm you, plans to give you hope and a future' Jeremiah 29:11
 So, I thank the Almighty God for what He has done during this adventure so far. My heartfelt thanks to my Mom Hanneke Cost Budde, Aunt Kathrin and the Knox church family for the tremendous support that they have given me! It will never come out of my mind!
                                  KNOX CHURCH IN TORONTO CANADA
I will cherish all the good time I have shared with my friends such as Birgit, Christina Loefler, Dr Zeller, Tom Dressel, Simone, Gorge [Kathrin's brother] Kathrin's parents and the church there in general.
 In God, we shall meet again! I know that God who has let us all to reunite will be the same God to our next meeting, If not here on the Earth, sure in Heaven will meet and have such mass of excitements and joy, God knows what is in store for me and for you. He reminds us much more on the verse below…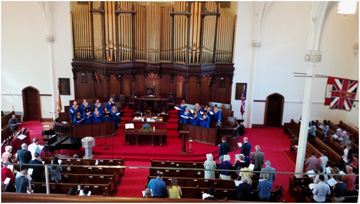 '' Fear not for I am with you, be not dismayed, For I am thy God and will still give you aid; I will strengthen you, help you and cause you to stand, upheld by My Omnipotent Hands ''
I will never forget all the experiences of challenges I faced during language learning in Germany. All has been fantabulous, I enjoyed every moment of being there with no regrets. Heartfelt love of appreciation towards Aunt Kathrin and her family for their good welcome and making my stay more pleasant! This memory will be treasured forever!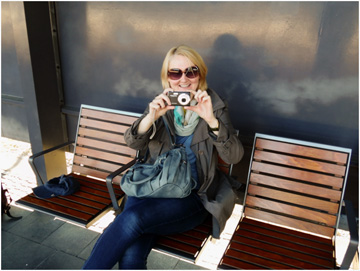 Everything has been all amazing and will continue to be. The support you have poured made me to who I am today.  Whether it has been prayerful, financially or words of encouragements. Everything has kept me encouraged along this venture.
As you read what God has been doing in this journey, you should rejoice with me in seeing God's work! You will also be convinced that God wants to teach me so much about Him and His love, So, Praise God for what He has done.
 God has already done amazing things and I can't wait to see what more He will do in the future, I know For God nothing is impossible. Jesus and His example of love are the real reasons.