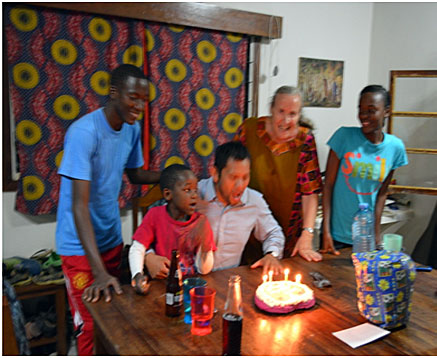 A DAY OF ANTICIPATION
I felt a strong prompting of the Lord to meet my "amigos" So I responded by buying a bus ticket the day before traveling to Tabora. In the guest house where I stayed overnight before getting on the bus at 5 am, extreme heat and a room filled with mosquitoes kept me awake till dawn. There was a television in the room and I decided to turn it on with the hope that the mosquitoes could be attracted to watch a video but the idea failed.
The next morning I realized that my ticket was lost… My question was: does God want me to see my gringos? If the answer was yes, then where is my ticket? Is it possible to hike from Dar to Tabora on foot? A whispering voice sounded from my heart addressing me to look inside my computer and there it was! I was very excited to see it and reasoned that I left it when I was emailing Xerggyo on his Birthday. I got up and said three very important words- Go to God! Then I hiked through a narrow street to the bus stand. I spent 15 hours on the bus which was a blessing as we arrived early without mishaps.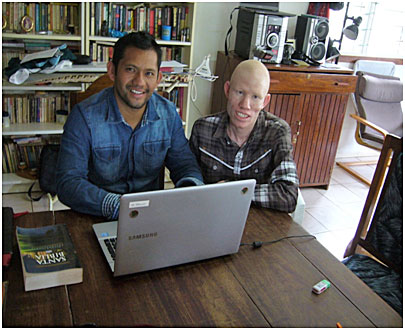 A JOYOUS NIGHT!
Arriving home at 10 pm I was welcomed by a cheery greeting of my amigos both Don and Xerggyo as well as from others, big hugs from all of them and lots of laughter as we hoisted each other up. (Don Xerggyo and I). What a splendid night with joy and prayers it was!! Mom, Margret, Faraja & Mfaume were screaming with joy too. I wondered if Xerggyo was able to remember his Swahili, but he greeted me with a very pronounced Swahili: Habari yako rafiki. Nimefurahi kukuona! (Hello friend, I am happy to see you!)
The next day we had time for a long conversation; we exchanged Scripture, and shared about Don's and Xerggyo's time in Mexico, Canada, Turkey, and Israel as well as in Africa. Both they talked so much about many friends from countries
who are praying for us so much and they sent the warm greetings from Canada, Mexico as well from many churches.
Photo: Xerggyo and I exchanging news and studying too.
I have learned so much that Zero is something although so many people extend to say, zero has no value, I was one of them but now I have abandoned peacefully and I can tell them on the value of Zero. This is because of Xerggyo. There also so many sharing we had not only the mentioned ones! My English seemed to be not improved but through Don, and Xerggyo as well as the lesson continuation with Mom makes me to improve a lot and my English comes up to be good, praise God!
Remembering on our conversation with Don on my English improvement, 'I can take an example from car. If a car manufacture wants to increase the speed, he can do so by increasing the horsepower of his engine, so, through this idea, I learned that, I have to increase the speed on English findings in order to make my English good!
! I can't forget all of the books from God's Child Nell Carpen which are helping me soooooooo much with the one given by my amigo Don and so many gifts from Canada, and Mexico. This is God's mercies and blessings to us which come in every new day!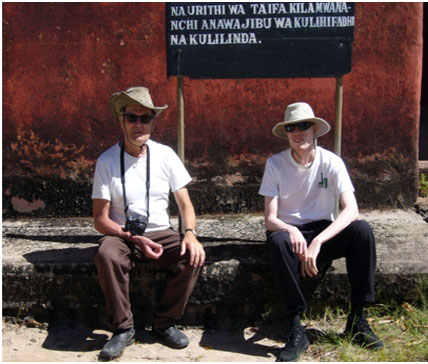 MORE FUN WITH DON AND XERGGYO
Travelling with Don and Xerggyo on foot or by a track made me scream with joy, when I found one of these gringos hiding at the back of the van. I was sure that Don felt so much young when he was in his lovely Tabora city. You can't match him in Olympic athletes; he said and cherished us with his big smile and laugher! Xerggyo did the same with so many Swahili sentences.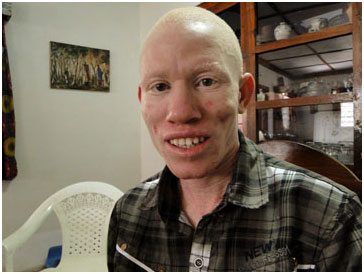 MY TRIP BACK TO DAR- ES- SALAAM
Have you ever witnessed a 26 hours long bus ride by yourself without sleepy yet? My travel to earn back to university started. We rode our NBS bus with peace and joy from Tabora to Morogoro where things came to be different after realized that the bridge between Morogoro and Dar has broken, one student was killed and went with water...! We had to wait until it settled well. There were thousands of vehicle which stopped before our arrival.
I couldn't reach the broken bridge to see and take its picture because it was far away from where our bus stopped, almost about one hour and a half to get there...The guest house was full of strangers and is fewer than the number of visitors and was expensive.
Talking with Mom, , Xerggyo and Ngassa on the phone to narrate on our venture,, I suddenly received a text message with an encouraging news from them,,'' Please stay with the bus'' Yes , I did so until the bridge was re-traced. Then we started the trip at 5 am from Moro-Dar, and arrived at 7 am very tired!!!
I intended to sleep after getting to my lodgings as I thought of my properties would have had grabbed by the bandits while on the way. I held my bag tightly and have been praying for the trip. I divided the amount of money I had into two different packs, if the one would have been taken, the one have to stay with me. I am thankful to our sweet and sovereign Lord that, nothing bad happened in spite of missing sleep and staying on the way for a whole day!
Thank you very much for your prayers, we made it safe in spite of passing in some forest. I value and put meaning to all prayers. Thank you a millions once again and God bless you richly.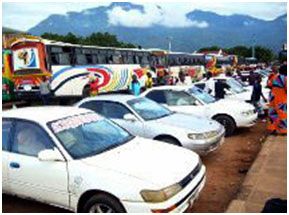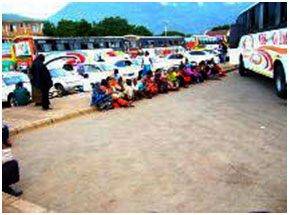 Vehicles got stuck in Morogoro