In Tanzania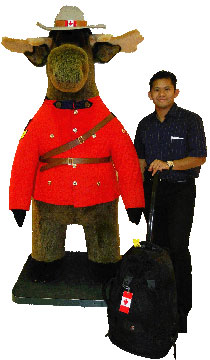 Wednesday, December 1 Amsterdam to Tanzania
Airports echo like giant caves with their hollow-eyed occupants dragging huge carcasses behind them. No one ever expresses much joy from the hunt! We are a touch chilly in Amsterdam with only t-shirts, but I am travelling with one tough Tzeltal!
From the tiny 737 window a beautiful red sky blankets the north of Africa--shades of gold and blood red. My mind meanders to the fertile black soil that has too often been stained with the blood of so many precious souls of this mighty continent.
It is Wednesday afternoon, I think. Just set my watch to Tanzanian time and it says 6:25 pm. We are hovering 50,000 feet above somewhere, just a little short of beyond. Neither Xerggyo nor I slept more than a few minutes from Toronto to Amsterdam...we were not sitting anywhere close. Our flight was 1.5 hours late arriving in Amsterdam. This flight from -3C Amsterdam to +33 in Dar left 2.5 hours late--some confusion about not having enough petro...so they had to off-load the fuel and refill. There are a few empty seats and we have three, so Xerggyo is actually getting some sleep. He looks so peaceful, I am tempted to wake him up—the misery likes company bit and all. The more you get to know him, the more you realize that he is a real man of God. So I will enjoy his sleeping!
We still do not know if we will be able to begin the office construction when we arrive in Tabora on Friday, or not. The permit is in a bit of limbo due to the recent elections. However, I am confident that there will be lots to do and much to see. I am eager to see Xerggyo's response to this new yet similar culture.
I think I just saw another plane in the greying clouds.
[Photo: Xerggyo saying goodbye to the land of the moose at YYZ.]
---
Thursday, December 2 Karibu from Dar,
It is Friday afternoon here, and Friday morning in Canada. It takes a little time to figure out what day it actually is—our internal clocks have become slightly wonky.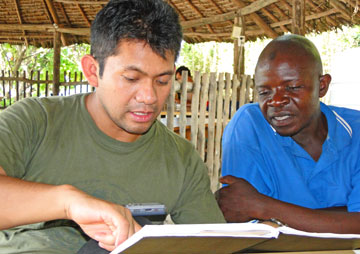 Sitting here on the porch of the Africa Inland Mission (AIM) guest house, I am buffeted by hot wispy breezes, heavily laden with moisture and heat but little relief. Although it is only about 38C it feels hotter. All our energy has been drained and we just wanted to siesta until the day is over. Zero energy would be an understatement...but maybe that too will pass. The tall coconut palms are swaying in some upper breezes, rather like grass-skirted dancers, against the rich blue tapestry. They sway with such enticing grace. Meanwhile Xerggyo lies flat on his back on the guest house sofa, staring at the Casablanca fan churning overhead. His eyes are fixed and slightly glazed, but he is fine. It is three in the afternoon and we need to get a bus downtown to Dar because our money, like our energy supply, has reached a critically low level.
Xerggyo travels with his notebook and interviews many to cram a few more words into his Swahili vocabulary. I am sure that Hanneke, if and when we see her, will be impressed.
We were to be in Tabora now, enjoying Hanneke's Dutch-African hospitality, but alas, our flight has been cancelled. Air Tanzania's sole remaining aircraft has ceased to fly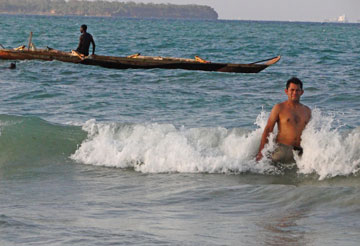 So, we need to venture into the hubbub of Dar es Salaam to book a new flight. Now we hope to go to Mwanza at the foot of Lake Victoria. Hanneke will drive the eight hours to pick us up. So far our track record of helping her in her work is on the negative scale. She was planning on travelling the horrible road to Mwanza sometime, but not tomorrow.
We try to get our Canadian/Mexican cell phones to accept the SIM cards here, but they are locked. So our communication is spotty. We will send this update from some internet cafe and maybe stop by a restaurant for some rice and beans for dinner. We have made some friends here among the local people, but not enough to get by.
We are missing the cool winds of Toronto and Chiapas, yet we have only been gone a few hours.
Got to get that bus, and hopefully find the right one to get back on too.
[Photos: Our taxi and Xerggyo--learning Swahili. Xerggyo in the Indian Ocean off Dar.]
---
Friday, December 3 The bus to downtown Dar
We expected that the time zone effects would have blurred out by now. Up until now, I was able to sleep quite decently in our peaceful guest house. But that was yesterday. Now it is 3 am and I am more awake than I was all day yesterday. I try praying and rehearsing the day, but nothing seems to penetrate through the mosquito net that shrouds my bunk bed. [Did I mention that Xerggyo killed two Tzeltal-blood-filled mosquitoes? We are trying to keep our antimalarial drugs on schedule after that.] Oh well, if I cannot sleep I might as well invade your day too.
Yesterday we ventured downtown to get some extra money for the extra baggage and book a flight to Mwanza.
We asked at the guest house about buses and thought we had a decent understanding of our planned route. Around the corner and over to the main street, there was a mini bus stopping and we jumped on. Not calculating how full it might become, we sat far back. We became hopelessly wedged on the back seat along with too many other passengers. It became impossible to see out any window. The bus sped along, then plodded and then stopped for long stretches. Finally we started passing familiar landmarks like the railroad station, which thronged with masses of undulating humanity. There was no train chuffing to be on the move though...actually there no longer is a train running to Tabora. Then we arrived at the business centre, Posta, and the exhausted little bus disgorged half of its human cargo--yet still more got on. Desperately, we wormed our way out and stood taking in our surroundings, as we sucked in the fresh air in front of the Holiday Inn. There was little time to sightsee as we were on a mission to find a bank that would accept my debit card. That took four, but we were finally able to withdraw about $400,000 Tsh. [CDN $370.00] By now it was almost five. There is a good reason for the urban Tanzanian to remain so fit...there are no fast food spots and no one selling hot dogs, chips or the like. We finally stumbled onto a pizza shop. The fresh baked pizzas and sodas were refreshing, but we had wasted a lot of our remaining daylight time.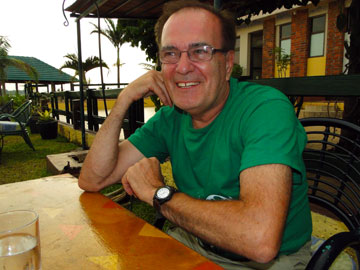 We returned to the exact location where we had squirmed off the bus, in the shadow of the Holiday Inn. Now there were hundreds of people blanketing every inch of the sidewalk and into the street. We squinted into the darkness to see the names on the buses, painted just beside the glaring headlights. Most were already too crammed to stop. Some experienced commuters would run alongside the bus until the door might open and one business man climbed in through the window as his bus slowed. The human tide surged and swelled in the ever darkening night.
Xerggyo saw a bus that fit our description so we wedged in, clinging onto anything we could, as it swerved into the traffic. The beginning of the trip was quite good, lots of stops and intimate body-solid companionship. We could scarcely bend down enough to look out the window, but when we did, we realized that the bus was going in quite a different direction--this was not our bus, but one with a similar sounding Swahili name! Standing there, with my Tilley hat in my back pocket for some stupid reason, I knew when someone squirmed past that I had lost my hat--only two days into our journey and the blistering sun ahead. Perhaps it would be on the floor, but there was no floor, just more feet than a shoebox full of caterpillars. Alas, Xerggyo's Swahili lesson on this trip would bear a Tilley price tag.
We glanced at each other in desperation. Finally the bus spewed a few passengers and Xerggyo spoke with a well dressed business man and a trim young lady. Their English was good. They suggested that we should get off with them in a few stops and they would put us on the right bus. We walked close together through the darkness and on the irregular, crowded street; through a never-ending market with its night time sights, smells and sounds. The young woman warned me that this swarm of confusion was rife with thieves and that we must stay together. Five minutes later, we were put on another bus and the fare collector was advised to tell us when our stop was. Sure enough, within another 15 minutes we saw our familiar landmark and hopped off.
When we arrived back at 9 pm the folk at the guest house thought they might never see us again and knew there was little they could do. So they prayed and waited.
Our morning flight into Mwanza has been moved forward one hour, so we would have missed it if we had arrived at the airport when originally scheduled. Something ahead of time—could this be a new trend?
Hanneke will drive up to Mwanza to meet us, but along the road she will travel there are a lot of robberies. Yesterday five bandits were killed and a bus was stormed. We are praying for her safety. holiday Inn
[Photo: Don]
---
Saturday, December 4 Karibu at 5 am
The call to prayer from the minaret woke me and I have not been able to get back to sleep. Maybe a hot shower will help, but will give you a from-the-bathroom update first.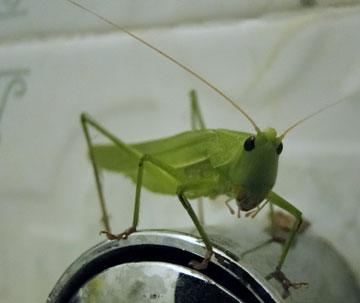 Our flight from Dar to Mwanza was uneventful and we arrived ahead of schedule. Getting the luggage was a challenge since it is all piled in one small area about the size of a walk-in closet and everyone scrambles to snatch their own odd-shaped bag or box.
We took a cab to the Roman Catholic hostel and have settled in for three days. Accommodation is reasonable and the place is very pleasant. We walked downtown and then had a siesta before meeting Hanneke. Although Xerggyo had never met Hanneke, he was the first to recognize Hanneke's voice echoing down the concrete corridors.
She took us to a touristy place overlooking Lake Victoria for a leisurely dinner from 6 to 10, and we got caught up on so many stories. She sends each one her love and greetings. Xerggyo was an immediate comrade and time raced by.
Today we will go to church at 8:30, then up country to pick up Ngassa and bring him back to Tabora with us. Monday Hanneke has an appointment with the auto fundi [mechanic]--the air conditioning broke on her van and with the dust on the bad roads, it makes driving quite unbearable.
[Photo: Another roommate at the guest house in Mwanza.]
---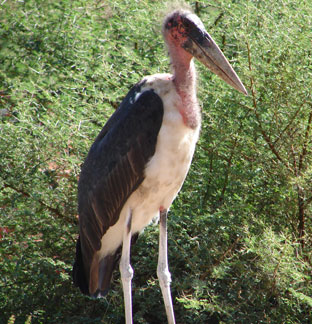 Sunday, December 5 A new day arrives and all is well--almost
Had a hot shower, after finally finding the heater switch and feel a bit more refreshed, as we get ready to meet Hanneke and face the new day.
Huge Marabou Storks swoop overhead and perch on the water tank on the roof. They soar with such majesty in the ink-blue sky, but when they land, their camouflage is stripped away and they are only ugly buzzards. Maybe a bit like us: our true Godlikeness only shows when we are closest to Him, and otherwise...
The church gradually fills as choir after choir sings in African rhythms, swaying like the palm fronds I remembered a couple days ago in Dar. The preaching is dynamic and focused on the central need for prayer—as translated by Hanneke.
Hanneke looks wonderful and was greeted by many in the church...after parading to the front with our offering, we escape by a side door, before yet more choirs that will continue for another couple hours. We need to be on the road to pick up Ngassa.
Needing money, Hanneke stops at a bank, and I dart across the road. Unaware of why she was screaming at me, until I felt the swish of hard metal barely miss my back. Still have to remember which way to look here. I shove my card into the ATM, then it tells me to take my card back and then my money. Alas, the card is stuck, and before our eyes it is sucked back into the belly of the monster with the instructions: Please contact your bank. Will have to see tomorrow if it can be retrieved, or I may have to do some real scrambling.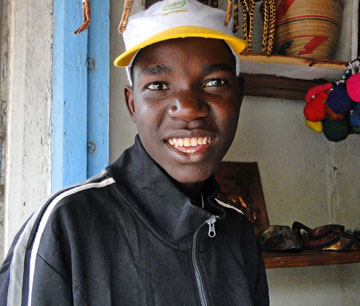 We begin the two hour trip up country to Ngassa's school. We pass streams of heavily loaded bicycles and an almost continuous market until we leave the bumpy road and venture into the open country. Scrawny cows are led to the few remaining watering holes and rice paddies are barren. Rains have failed again. We have lunch with some missionaries—goat and rice. I ate it, but it got a bit clogged in my greased throat. These people are amazing, two Canadians, one from Chicago and two from Germany. The school property has high standards and the headmaster, Mtebe, is excellent. He is constructing a library and the school has two state-of-the-art science labs. Then we meet Ngassa. He is a handsome, slim young man with long legs, arms and fingers. Radiant in his smile and consuming in his embraces for Hanneke. He shows a slight limp and has some oozing from his major operation. This beautiful person would not be alive if Hanneke had not rescued him from his death bed in the hospital with the support supplied by Knox folk and others. I wish you could have been with us last night when we all prayed together. He sat side by side with Xerggyo, two men from a half-world apart, understanding each other—overcome with emotion and love. [This is some of the effect of your support that I wish you could experience.]
Xerggyo's ongoing progress in Swahili is impressing everyone [except me...I have seen this brain at work before]. Ngassa is enjoying being his teacher. Xerggyo valued your prayers as he continued to grapple with where God is really calling him. He has fallen in love with the African people and his wonderful, deep brown eyes mist at many of the needs here. "Where, my God do you want me to go? Am I here for some new lesson?"
[Photo: Marabou storks--click for video; Ngassa.]
---
Monday, December 6 Market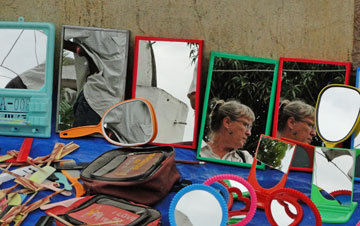 Today is a day to catch up on the needed items around Mwanza. We must make an early morning effort to retrieve my lost debit card. We line up at the bank before it opens with about 50 others. Although you can do all your banking on cell phones which everyone has hanging on their ears, Tanzania is still very much a cash society. People carry huge bundles of cash. I am amazed that cash machines can hold so many bills. It is common to draw out about 400,000 Tsh—either in 5,000 or 10,000 bills. When you put that in your wallet, it is hard to disguise the fact that you are wealthy.
The bank is small and disorganized. One heritage of the British influence has long gone—that of the queue. You go wherever there is space and if there is not a space, you just push in and speak to the teller in the middle of another transaction. Finally, someone tells us to have a seat for another 20 minutes which turned into an hour. After constant efforts to see something happen, we saw them walking around with my card. It takes my passport, photocopied three times, and a lot of signatures to clutch it in my hand again.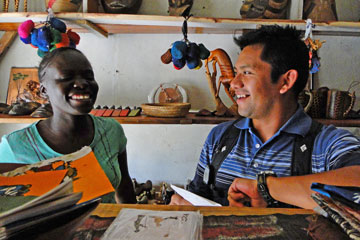 Then on to the auto fundi. What a massive, Indian-run complex. There are over ten service bays, all lined two or three deep and oil-stained mechanics race in every direction. The part for Hanneke's AC unit is not in Mwanza and will have to be shipped by bus from Dar. This will mean that we do not get away from here until maybe Wednesday—but likely Saturday. The road to Tabora is too dangerous to travel at night, so we will need to leave before noon on our departure day. The cost of the part and labour is 2,000,000 Tsh.
Xerggyo and Ngassa continue their steady pace of lessons. Xerggyo uses his limited vocabulary whenever he can, and the beaming white teeth of everyone is amazing. Meanwhile, his English is becoming more solid too.
We meet Hanneke's former girls, Jackie and Kiri, with their adoptive parents at an Indian restaurant. A dirty little street kid won the heart of Hanneke with his sad story of being unwanted, so she bought him dinner and he went away with chips and wonderful barbequed chicken in a black plastic bag. His weak smile to Hanneke and his thank you, made us feel so rich.
[Photos: Scene from the Mwanza market. Xerggyo trying Swahili greetings]
---

Tuesday and Wednesday, December 7 and 8 Dar and the Serengeti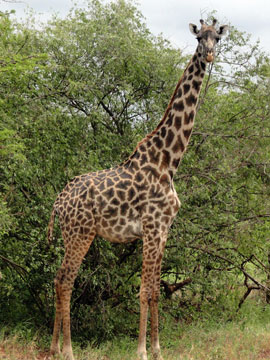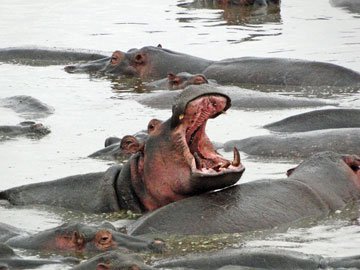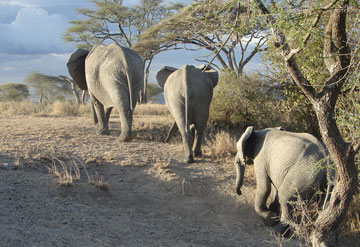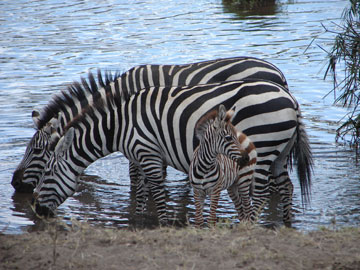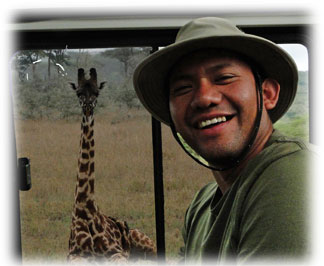 The stench of dagaa fish hovers in the air over this bustling fishing city. Ferries crammed with people ply to the islands and other points on Lake Victoria. When we heard that we might well have to wait a week for the car to be repaired, we decided to visit the Serengeti as a special treat for Xerggyo and Ngassa.
I warned Xerggyo that lions like to eat Mayans, but he assured me that I would be a heartier meal.
We had a wonderful day, with a great guide-driver and saw thousands of animals. Xerggyo is an amazing tease—a side I had not seen before. In the baboon area, he commented that this must have been my native birthplace and I might better return because the outside world is not nearly as safe for me. Then he looked at the soles of my shoes to see if they looked the same as the hippo tracks that surrounded us.
On Wednesday, we met an eccentric Czech who is travelling by public transportation from Cape Town to Cairo. We spent several hours together and shared his insights and shared our faith.
We walked down to the market in a steady warm drizzle. Hanneke bought two bags full of clothes for the kids—most new and brand names for only $70. Xerggyo got some good sandals cheap.
[Photos: A few of the thousands of wildlife we met in the Serengeti.]
---
Thursday and Friday, December 9 and 10 Our waiting continues
The days of building patience are still with us. We have been pacing ourselves between the beach, the market, the Internet cafe and a restaurant. We have shared great times of prayer together. The markets are crammed alley to alley with shipments from China. Bargaining is a social medium--you start by offering half the asking price and arrive at some middle ground.
Last night we sat outside at the guest house, just talking—the two gringos. Suddenly we discovered that we had become the feast of choice of zillions of mosquitoes. Reality stuck! Each of these little pesky critters could well be a source of malaria, so we scurried inside and cowered under our mosquito nets—which already had their inhabitants.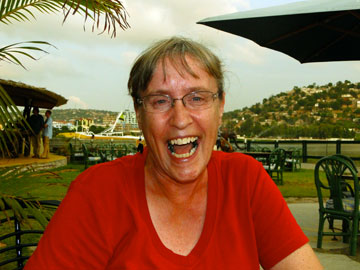 Today, at the garage Hanneke was told that the part which was shipped from Dar was the wrong one...but ironically after spending close to a week here, they found the correct part, mislabelled in a local warehouse! Now the AC is churning again. We walked toward the fishing area, but got chased by ominous clouds and peels of thunder. This area of the country needs rain, but not floods. Xerggyo is concerned about news of floods that have washed away homes of many Tzeltal Christians back home.
Sitting here in the open we had a visit from a David Yungu, a man in his mid-thirties. With tears welling up in his eyes, he related his story: "I have a very sad story to tell. Before, my life was full but now it has become hollow and hurts me on the inside more than you can see on the outside. I grew up in Liberia, the proud son of my father who owned a small piece of rich earth. Then the soldiers arrived from Sierra Leone and our home was burned. [He showed us the scars on his legs and feet.] We were driven from the area and barely escaped with our lives. My beautiful wife was raped many times by the rebel warriors, under the threat of a sharp machete. Now here in Mwanza where we escaped to, there are no jobs for me. When we arrived, my wife was beautiful and fat. Then she started to become sad and lost her beautiful self. The doctor discovered that she is HIV+. I was so embarrassed but was checked as well and am also positive. We both wept when our two daughters were also found to be infected. This came about as a result of the raping rebels. Now we must leave Tanzania to go to a camp in Uganda. My wife and daughters will meet me at the boat which is sailing in just two hours."
Tonight we played our first game of Scrabble [an all-time favourite of Hanneke's]. The score was 219 for me, 248 for Hanneke and 276 for Xerggyo.
[We did give him some help.]
Those Marabou Storks have stopped perching on our roof. Xerggyo is sure that they have smelled a bad gringo [Canadian] and decided to begin their migration early.
Now as he lies on his bed he comments, "The persecution is beginning. I hear mosquitoes! Maybe this last night in Mwanza, will be our last night."
[Photo: Happy Hanneke.]
---
Saturday, December 11 On to Tabora at last
We left the guest house early and went on a wild chase around Mwanza to secure power steering fluid . One fellow insisted that kerosene would do just as well. We stopped along the roadside where a group of women were selling dried tilapia fish and quickly became the centre of an intense bidding frenzy. Each wagging their dried carcasses in front of Hanneke's eyes and wrapping them in newspaper and offering them to her before she had made any decision, The volume of the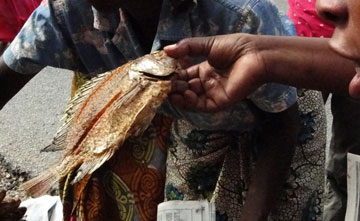 exchanges, seemed so animated and aggressive, one wondered if we would be able to escape without buying everyone's total inventory. Finally Hanneke selected ten or so. They were lovingly packed in a plastic bag. My fish-sensitive nose has had to be turned down a notch.
The trip took from 9 until 4 with only short stops. This shortened time was due to the excellent condition of the last 100 km of road into Tabora. There has not been much rain, so the road was not washed out or flooded.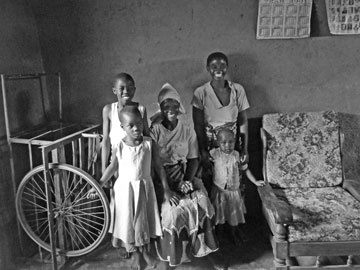 We stopped at Ngassa's aunt's home and Ngassa was given a homecoming hero's welcome. She has a very modest home--a group of rooms surrounding a courtyard. All are mud brick construction. She rents some and owns a buggy to carry water from the well which she sells to keep herself and five children fed. She produced a loaf of sliced bread and four sodas and then left the room so we could eat. When we indicated that we were finished, they returned and we continued our conversation. Ngassa, a teenager, with beautifully oiled skin and sharp clothes looked like he had come from quite another family, but seemed so familiar that we realized this was home to him. This area is rough, with a lot of alcohol and carousing-a very needy suburb on the outskirts of Shinyanga.
Finally we arrived at Hanneke's home in Tabora. Baraka raced up to the van and I pulled him in through the window. He is missing his two front teeth, but his smile had not suffered from the lack! He twines himself around you and makes you feel that you have finally been reunited with a lost friend. Xerggyo received the same Baraka-Faraja welcome. Ngassa, who will be spending the month with us, immediately became the big brother and raced around with them on his limping, but healthy legs.
Her rented house is large. It sprawls out and does not make good use of space. The kitchen would be larger than any kitchen back home with a simulated granite counter extending on three sides. Since the kitchen is Hanneke's favourite room, she deserves it after surviving in closet-sized kitchens thus far in her time in Tanzania.
We are staying across the road (Hanneke will have at least 12 folk during the coming weeks) at the home of an Australian missionary couple who teach in the school. They are on furlough for the month. Hanneke cooked an amazing welcome meal of spaghetti [my favourite] with homemade sauce, fresh broccoli, rice, beans [in honour of Xerggyo] fresh salad and topped off with fresh Tabora pineapple and Tabora's famous honey.
We had a good night's sleep despite sharing a rather large firm bed. We will be off to church soon and Hanneke has promised us pancakes for breakfast. So far the time here has not been very rough at all. Xerggyo and I came to work hard in the scorching sun. Last night we were lulled to sleep with a steady rain and peals of thunder and needed to cover ourselves with a sheet. We are looking forward to the days ahead.
[Photos: Women selling dried fish along the road. Ngassa's aunt and family.]
---
Sunday and Monday, December 12 and 13 Tabora and its people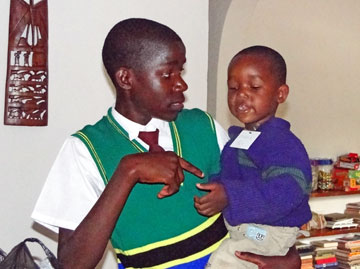 The Dutch crepes Hanneke flipped for breakfast went down well. We helped get the kids ready and took off. The church is large and a choir was singing when we arrived. Hanneke waited outside until the heavy base beat from the cranked amplifiers subsided. We were introduced and Xerggyo got applause for his greetings in Swahili. They really appreciate his efforts. The sermon was powerful and the music was loud and invasive. Following the service, everyone filed out of the church and then most returned for a Communion service. The pastor and two elders sat at a small table at the front. They served the 250 or so from flat wooden trays and pewter cups. The bread was a flat, Roman Catholic-style wafer. As we were being served, the women broke into beautiful song. Soon everyone joined in. The room reverently reverberated with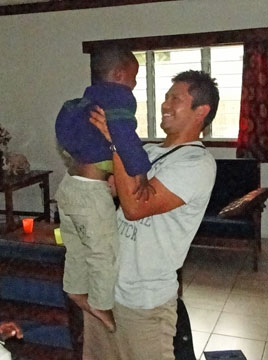 haunting African voices raised in Swahili praise.
After the service we had a siesta. In the evening, we watched Polar Express with Baraka, Faraja and Ngassa on Hanneke's computer, cuddled up on the couch. It was a good family time. There was a gentle rain as we made our way across the road to home.
This morning we woke at about 7, after a refreshing night. A few times we were awakened by dog or rooster sounds, but immediately went back to sleep. Xerggyo's comment was that he thought that hippos lived in the Serengeti not in his Tabora bed. He is constantly hiding and then jumping out to scare me, but I got him real good last night by jumping out behind some curtains.
We loaded the van and went to the church to visit the bishop and see the office project. There is a good area and we will begin construction tomorrow. Now Xerggyo is complaining about his sandals, but I think that is a ruse. The bishop's present office is the size of a closet, so we see the need of something much larger if he is to begin any significant work in the area. Some huge rocks and baked bricks are waiting at the site.
Hanneke drove us downtown to the internet café and then left to stop in to the hospital to see what is wrong with the boys, as they both have fevers. [Baraka has infected tonsils and Faraja has pneumonia in his left lung--but they have not lost any energy!] We wandered through the market, chatting with vendors, overwhelmed by the piles of used shoes and clothes. We had soup for lunch at the quaint, old colonial Orion Hotel, served on English china. The soup and garlic bread were wonderful but we were the only ones in the restaurant, and possibly in the whole hotel.
Seems our directions still need some fine tuning. It took us about three hours to discover our way back home in the scorching sun. Hanneke's map seems slightly inadequate. Cold water has been the most welcome greeting today.
[Photos: Ngassa with Faraja. Xerggyo with Baraka.]
---
Tuesday, December 14 More early hours.
The dogs are barking again—really chaotic this time and I don't know what has gotten into them. Maybe the full moon. Xerggyo is asleep, I hope, but I am not sure if I will be able to get back to sleep until the symphony of howls and yowls stops, despite my ears being stuffed full of toilet paper. My face is burned due to my loss of a Tilley hat, so there is some pain too!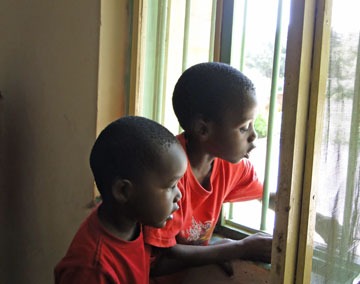 This morning we went to the office site, but no one turned up, so we are now planning to begin tomorrow—always mañana of mañana. We meandered around Tabora. It feels a bit barren and everything is so spread out. Roads seem to come from a central round-about but then have so many legs, it is easy to get twisted up. We have to remember to look the opposite way when crossing the street to avoid being run down by a car or piki-piki [motorcycle]. So far we have escaped. Many of the main spoke roads have mature mango trees flanking them. Their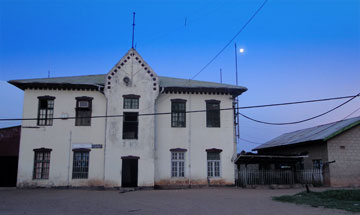 branches form a canopy starting some 10 metres high. Some of the trees have been pruned [or hacked] and look rather pathetic. We checked out the old rail station. An imposing affair, but with no evidence of any trains—although there was a woman waiting with six large bags...so maybe there just might be some train chuffing somewhere.
This weekend, a group is coming from the US to consider a project in the rural area, so we will probably tag along with them and see a bit more of the goings on within Hanneke's varied world here.
Baraka was naughty today, but I did not find him terrible. Hanneke has to draw a fine line in the dust as to how much to discipline and how much the kids will feel that no one loves them. She certainly does love them and they do respond.
We had quite a comedy installing new taps on Hanneke's kitchen sink—had to totally remove the sink and re-install the whole thing. Got valuable silicon all over the place and us too! Could not get the sink to fit down tight, so weighted it down with a huge boulder from the garden. Hope that tomorrow it looks better and we will see if she is able to use her taps after nine months.
Time is racing quickly for us here, and we have not started the office project we actually came to work on. Yesterday we looked over the site. The whole area is carefully planned with strings marking where the walls and rooms will be. I imagine they will start to dig tomorrow, but then we will wait and see. We took Ngassa to the hospital for another x-ray on his leg. We arrived at 9 and left at noon. The hospital is very clean and a few areas are quite modern. The x-rays were brought out to hang on the eavestrough to dry in the wind and seemed to be rather blurry affairs, but I guess they would show what was needed. Ngassa's leg shows some irregularity and he might have to be taken to Nairobi again for more treatment. He remains a confident happy fellow.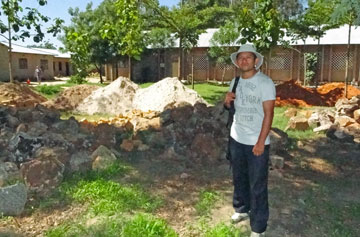 As I was walking along an outside corridor, looking all around, not down at where I was walking—a big mistake here—plunk and I fell into a .5 metre hole. Not sure what it was there for but when I looked around there were many similar holes. I was not hurt, but people showed their concern. My biggest hurt was my dignity. I climbed out of the hole, dusted myself off and continued my journey as if nothing had happened..
In the afternoon we went shopping for a replacement hat and vegetables. Tabora market is extremely dense and each stand seems to be part of the next one, but you soon learn about the competition between neighbours. The stench of dagaa fish permeates the stifling air. You have to bargain for everything including lemons. We returned home to assemble a bed for Hanneke and reconstruct the kids' swing.
The power was switched off at 5 and came back at midnight. The sky is so blue here, with hardly a cloud. That is not good news as crops will soon begin to fail and the dam that supplies the electricity is dangerously low.
[Photo: Standing at the worksite.]
---
Wednesday, Thursday and Friday, December 15 - 17 Hard at Work Now
Reality has finally struck. We began early today to carry rocks, about 50 kg each [or more] on a homemade stretcher. [Two tree branches support a plasticized concrete bag and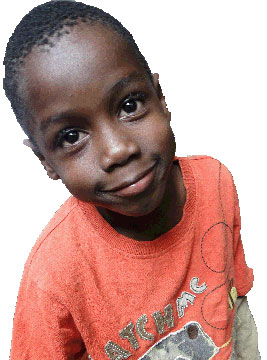 the rocks are rolled onto the centre and carried over very rough ground and dumped into trenches for the foundation walls. It has turned out to be back-breaking as well as hand-destroying work. Perhaps we have become a bit soft over the past few days. The heat seems to zap any strength we might have had before the first boulder appeared on our horizon. [49C in the sun and 38C in the shade] The completion of this project will allow the work to proceed here in the Tabora area. So time to suck it all up--along with gallons of water. We did pick up some gloves, which work well for Xerggyo, but are far too short for me. After a half day, we headed off to the internet and to get some sodas. We have consumed so much soda here that even perfect-skinned Xerggyo has managed a pimple! We use the headquarters of the Tanzanian phone company for our internet. It is rather decent, although some joker has mixed up the keys on this keyboard. It was already hard enough to find the @ on the Swahili board. Then after so many sodas I had to request a pit stop. Well, this place is large. The fellow at the internet led me outside, down past all the parked vans, through another maze of corridors to the desired room. He stood waiting since he was aware that no one would ever find their way back on their own!

I hear that you are having cold weather back in Canada--enjoy it for us. We find ourselves enjoying any shade available. Tabora has many majestic mango trees. Apparently the mango trees are a grim reminder of the routes of the slave traders, as they would travel with gunny sacks of mangos and drop the seeds everywhere. The are about twice as majestic as a mighty oak with pointy leaves. They grow huge and offer amazing shade and wonderful fruit.
A group of four missionaries who are considering setting up some work in the Tabora area, arrived by AIM air at mid-day. We visited with people from the two dominant tribes in the area. They work very hard. The Sukuma tribe focuses on raising cattle and the Sandawes work on their fields. One of the main crops is tobacco. They build two-storey mud block kilns to dry the leaves in. Huge fields have been hand-ploughed yet remain barren.
Meanwhile, Xerggyo returned to hauling rocks at the office site. He is a hard worker and enjoyed his time alone with the other fellows which forced him to use Swahili. Here are his comments to Diana Wadsworth about his progress here: "Hi Diana, thanks for your e-mail, we spend wonderful time here in Tabora, now we work a little at the church, that is good, my language is improving now, not so much only the survive sentences. Thank you for all your prayers."
Electricity is rationed, so every day or night we are without power. Hanneke still produces amazing meals with seemingly no effort or electricity. She juggles her work with students, manages the three kids and hosts the visiting missionaries. What an immense joy it is to see her interacting with those around--whether it is the skilled bartering in the market or in encouraging young students to excel. Then we watch as she lovingly dresses Ngassa's leg wound twice a day.
[Photo: Baraka.]
---
Saturday, December 18 Work and Rain
We stole a leisurely start to work today--muscles aching and all that delay tactic stuff. The boulders did not seem quite as heavy today but they were just as big. We gulped down huge quantities of water just to get through. At 1 pm Hanneke arrived. When Xerggyo saw her van, he commented: "our salvation has arrived!" The workers with us are in their early 20's and are hard to keep up with. They race over the boulders in their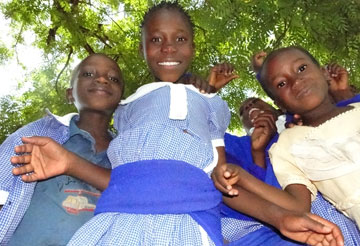 bare feet. Tanzanian feet are very broad and they are incredibly sure-footed. Most of the foundation trenches are now full of boulders. Concrete will be poured around these boulders to form the walls. That might happen even next week. The foundation takes a lot of time and it is being done well. The church is involved in Compassion International and they have a building that houses 250 high-need kids [either orphans or those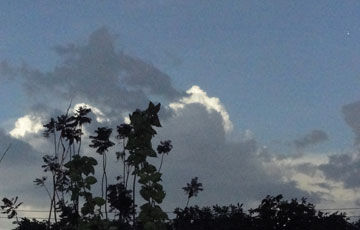 whose family cannot support their children.] They were at the church for a special day today with games and Bible stories. They had fun watching us work and wanted us to take their photos. They were so well behaved that we were impressed.
After Hanneke rescued us, we went to pick up a bed she had made for her houseful of guests. The workmanship is crude, but the bed is sturdy. We barely got the bed out of the van and into the house when the blackened skies started shedding their torrents of water. Rain pelted down for over twenty minutes, filling the rain barrels and making the hearts of the farmers rejoice. Thanks for your prayers. The temperature had a brief reprieve, but now it has returned to upper 30's with much more humidity. Reading the reports of snow closing down Western University, London, Ontario and much of Europe seems too far from our world to comprehend today. Minutes after our deluge I was able to sit out on the lawn to do my emailing—the only place we can get a satellite signal—and did not even get my seat wet.
[Photos: Kids from the Compassion program enjoy "gringo" Xerggyo. Hopeful rain clouds.]
---
Sunday, December 19 Meeting Mary
After breakfast we crammed into Hanneke's Toyota Land Cruiser and followed the road to church. Two school choirs joined the main choir this morning. They were from a local school and first the boys sang, then the girls, then they sang together. They began singing while seated throughout the congregation and then filed to the front. Their voices were strong and in perfect harmony. Somehow the unknown Swahili, became the Voice of God to us. The home choir has an exquisite soloist, with a powerful, controlled voice who walked among the congregation, enriching the whole experience. Xerggyo and I felt a bit overwhelmed.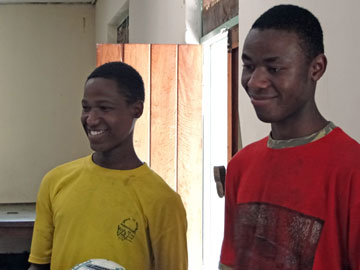 Xerggyo and I have new names for each other, based on "Karibu" [the Swahili greeting, meaning "you are welcome"]. I call him Terribu and he calls me Scarybu. It is impressive to see how he is able to fabricate words in the English language...perhaps being with me is not really a good thing for his future English.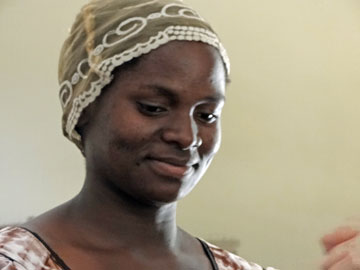 This afternoon we drove north of Tabora, crossing the railway track three times. This is the location of a RC school for the deaf. Hanneke supports a girl called Mary. She is learning to sew and welcomed us. We gave them soccer balls from Knox and bought some of their sewing. They can read lips well and should be able to integrate into a harsh society. Their teacher is a beautiful young woman that radiates love for each of her students. The boys are learning carpentry. It was an inspirational experience.
After we arrived home at about 5 pm, I decided to take a short walk along the tracks. I met some people on the way and we chatted as time raced. I arrived at the old station and was surprised to see a handful of people sitting around waiting for some train. By then it was getting dark, so I sped up my pace toward home. It was pitch dark when I arrived at Hanneke's at 8 pm. I was greeted with some concern. Hanneke was sure that I had been done in by some local bandits. I had not intended to cause such distress. She feels that Tabora is not a safe place to be walking alone at night and that we are prime targets.
[Photos: Young boys at the deaf school. Mary]
---
Monday, December 20 "Dr. Livingston, I presume"
We were awakened in the night by the refreshing sound of gently falling rain (which continued, sometimes harder, but usually just steady, for over an hour. Xerggyo had predicted a rain last night when he saw a ring around the moon. However, it is not enough to provide for the crops. The heavy African rains have still failed this needy land.
Since the rain continued we did not go to the construction site today, but worked around Hanneke's house trying to fix the shower that acted more like a bidet, and the roofing on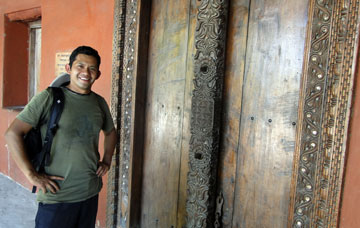 the outhouse that flapped and crashed in any breeze. It is frustratingly hard to get good products here. We were able to get decent German-made taps, but three shower heads broke when we tried to tighten the nut. The new lighting system that we bought in Mwanza has stopped working, so we will check that out tomorrow when we can see again!
In the afternoon, we borrowed Hanneke and Ngassa's bikes and headed off with her hand-drawn map to locate David Livingstone's home. After a few wrong turns, rattling our bones over washboard roads and asking for directions, we arrived. It is a large mud block structure which has been restored in the 1960's. Friends carved amazing entry doors. Some of his life is chronicled in a small museum. He lived and died for Africans and his heart is buried here although his body rests in Westminster Abbey in London. He was burdened with Tabora--the slave trading centre of much of the west to east traffic. Leg shackles hang from one wall, as reminders of the major horrors of past years. David Livingstone was the first missionary biography that Xerggyo read and it had a huge impact on his life. He was excited to be in the home of his hero.
On our way back over the ruts, my bike shed a few parts, but we made it back intact.
[Photos: At David Livingstone's house with ornate door carvings.]
---
Tuesday, December 21 Progress on the project
I had a rather poor night but fortunately Xerggyo did better. He is writing his journal every evening, chronicling details about his "disaster experience to travel around the world with his disaster gringo amigo". Not sure that it will establish him any merit as a publisher.
We drove downtown and picked up lumber then dropped Xerggyo at the office construction site. I returned home to move the solar cell into constant sunlight...so I hope it will work tonight.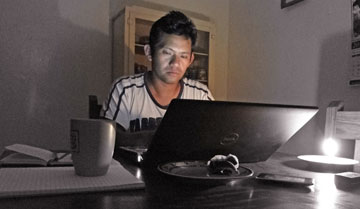 Today, Xerggyo and four other workers began pouring the foundations over the boulders that filled the trenches. All the concrete is mixed by hand--carefully turning the mixture over several times--and then forming it into place. One of the four walls is completed and work is now progressing at a visible rate. Everyone works hard. Tomorrow, we will travel up country to see Hanneke's new project site.
After work, Xerggyo and I walked home together, but we were disappointed that our favourite soda shop was closed. Guess those are the breaks. Baraka was being rather bad tonight and poor Faraja managed to get something in his eye but with lots of water and tears, he felt better...and the solar lights are shining brightly.
It is 11:30 here—3:30 pm in Toronto so will climb under the mosquito net, with the toilet paper in my ears and hope that the canine choir takes a hiatus for at least a few hours.
[Photo: Terribu writing his diary during our daily blackout.]
---
Wednesday, December 22 Another changing day
Both Xerggyo and I had a very troubled night. It was strange because for some reason the dogs were not yowling and there was no all night wedding celebration up the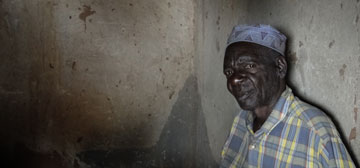 street. Xerggyo had a recurring dream that he could not move and I dreamt that I was involved in the slave trade. We were both glad when the morning finally arrived.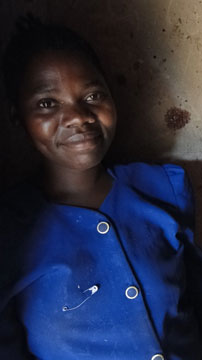 After breakfast we drove into the Mzungu district where Hanneke will establish her new AIDS/orphan outreach. Funding for some of this project has been provided by Xerggyo's churches of Chiapas, Mexico. Hanneke refurbished a 60-year-old German-built school building with local help. It will be used as classroom for pre-school. Children cannot go to regular school unless they have had a pre-school education. The adjacent clinic will help with the health needs of the area as well as AIDS-related issues.
We stopped by the local restaurant for tea but the owner's pot had just run dry. The owner felt badly and had us meet her whole family and take photos.
Hanneke's worker, Naomi, is a faithful helper. She has remained with Hanneke for ten years. She moved to Tabora with Hanneke to look after the kids. Hanneke wants to buy her a used refrigerator for Christmas. She has just rented a new house and is hoping that her daughter will be able to move back with her. We stopped by the open-air refrigerator shop. There were refrigerators of all sizes standing higgledy-piggledy and barely off the bustling roadway. The owner offered to show us even more models and took us into his house and there were refrigerators everywhere. There was only a path between the white carcasses. Finally, in his bedroom we found one that might do. We will take Naomi tomorrow. I just wonder how we will ever get it out of his bedroom.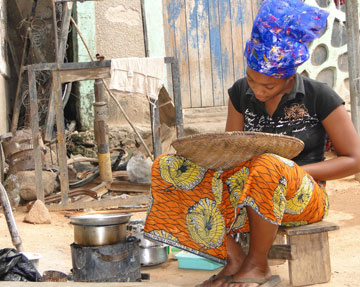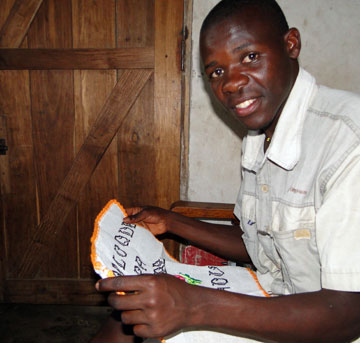 Xerggyo: "Today I had a wonderful day with a local family in Tabora, after our visit to Mzungu, where Hanneke's work. My friend Shabani, a man who a meet in the construction, he invited me to his home. We spend wonderful time with his family; we had long conversation, and a delicious African meal. It was my first time to contact with a local people for myself, when a left they said: why you want to go, it is very early yet!!! Finally they said: always you are welcome here to our home.
"
A German dermatologist that Hanneke led to Christ over 12 years ago as a medical student in Kolan Doto will spend Christmas with us in Tabora. She has been working in a Tanzanian hospital for the past six months. She boarded the bus in Mwanza at 8 this morning. We received a call at noon that the bus had broken a rim and would be two hours late. Then, on our way to the bus station, two hours later, we got another phone call that the rear axle had broken in two and that she would not arrive until much later. We drove to pick her up. She is a wonderful woman and really identifies with the children, although she looks rather travel-worn after eleven hours...makes us wonder what our bus trip back to Dar will be like.
[Photos: Man and woman at the tea restaurant. Shabani with gift from handmade work from Chiapas. Shibani's sister preparing meal at their home.]
---
Thursday, December 23 More bus woes
When we greeted Mama Hanneke this morning, she was rather stressed. There were five robberies around 3 a.m. Three adjacent neighbours were robbed. She was particularly sad about one widow who had her sewing machine and all her dresses that she had completed for customers at Christmas stolen. Hanneke took some money to her and sat for a few minutes to console her in the devastating loss of her livelihood. Then our bathroom taps needed a bit more attention since they were wasting precious water all night--this time from the wall. It looked like it would be a major tiling job, but we were fortunate when we found a piece of ancient plastic pipe in the wall which had cracked. After a couple sweaty hours we had things mended once again. Hanneke is purring over that.
Xerggyo managed to lean too far back on the sofa and it toppled over backward He banged his knee and is moaning—but I am sure that another day of hard work will cause that memory to fade.
He was not able to work today since by the time he walked the 45 minutes, he was hobbling around. He hailed a piki-piki and came back home at 2:00. Tonight he is some better.
We went to the market to buy fruit and vegetables. It was hot and muggy and the market was stifling. Smells of bodies, alive and dead, were so tangible that it felt like you could touch them. The acrid stench of dried dagaa fish coated the lining of my nose. Flies contaminated every cm of meat that hung in the butcher stalls as the oozing blood congealed quickly in the heat. The canvas canopy strung overhead for sun and rain protection is only about 1.5 m high, so you walk crouched over. It feels like navigating the maze of an ant hill.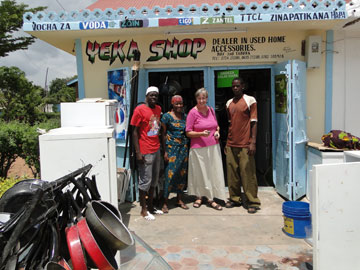 We returned to the refrigerator shop with Naomi. We looked at a few more models and she chose a decent one. The store owner negotiated a price which was mutually satisfactory. We could not take it with us as planned because he wanted his fundi [service expert] to be sure that it was working perfectly. So the Christmas gift might arrive for New Year, but this is Africa.
We waited for the bus to arrive from Mwanza with Mama Pendo, Pendo, Jackie and Kiri aboard. It was due at 1:00 and at 4:00 we had not seen anyone. We stopped into the booking office to check. The sole agent was in a deep sleep behind the cracked glass. When we woke him, he grunted and phoned the driver en route. The bus was back on the road again and should be here in two hours...both rear tires had blown and everyone had to get out in the pouring rain while they were replaced. The tired and grateful family arrived at 8 pm to sweaty welcomes.
It was a fine reunion and we enjoyed getting caught up on events over the past years.
Kiri and Jackie are both girls that Hanneke rescued and are now living with a family in Mwanza.
Hanneke prepared a gourmet feast: beef, spinach, rice, gravy, hot mango sauce, peas in coconut sauce and fresh fruit salad. The eleven of us at the table cleaned every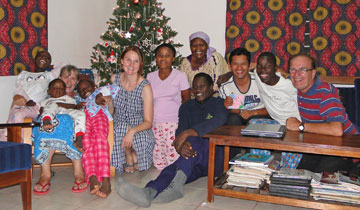 bowl and many of us had keen appetites.
Following dinner the kids sang in Swahili. Their voices blended and the adults joined in. Their song was about the Israelites' escape from Pharaoh with the refrain: Now we are free, we are never going back. They added their own verses, like now we are free in Jesus, we are not going back or now we are free from the witch doctor, etc. Then we prayed together, many in our own languages: Swahili, German, English and Tzeltal. We represented Canada, Mexico, Holland, Germany, Kenya and Tanzania. As we prayed the rains pounded the corrugated metal roof. How refreshing these rains are, but more refreshing still were the voices of the children's song of praise and the scintillating time of prayer.
[Photos: At the refrigerator shop with Naomi. The international gathering at Hanneke's: l-r Jackie, Faraja, Hanneke, Kiri, Kathrin (German doctor), Pendo, Mama Pendo, George (Hanneke's guard and student), Xerggyo, Ngassa and me--Baraka had gone to bed.]
---
Friday, December 24 Christmas Eve Day
The rain was still rattling gently on the metal roof in the morning and it was too wet to do any work at the office site, so it became a day of getting gifts ready for the evening with the kids at Hanneke's.
We did manage a couple trips downtown—one in Hanneke's van and one on a bike-taxi--to the market and the Catholic bookshop. The bookshop is one of the best organized stores we have been in, in all of Tabora. The sales people actually seem glad that you are there. Xerggyo loved the display of African drums, but they looked too big to carry all the way back to Mexico on his three flights.
Neither Xerggyo nor I seemed to feel too well most of the day—we had a myriad of reasons including supposed malaria. We meandered along the train tracks. They were shunting a series of very tired, British made passenger cars and there were a few folk waiting at the station with mounds of luggage. Xerggyo wants to return with Hanneke's guitar and do a song from an open box car, just like Johnny Cash.

Following dinner we sang, prayed and then opened gifts. Most of the gifts were small, but there was a lot of fun. Xerggyo had provided a few special handmade gifts from his people in Chiapas which brought a lot of pleasure. It seems that tomorrow we will spend most of the day at the church.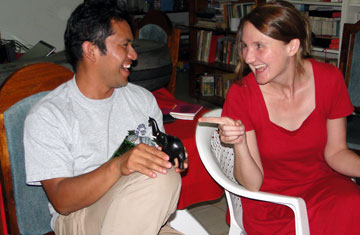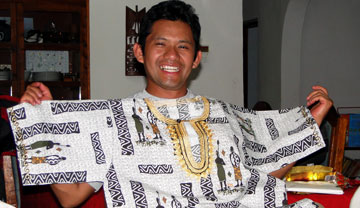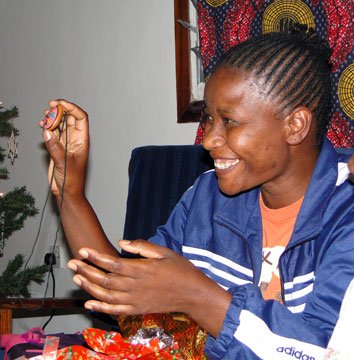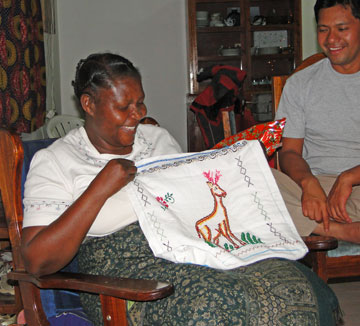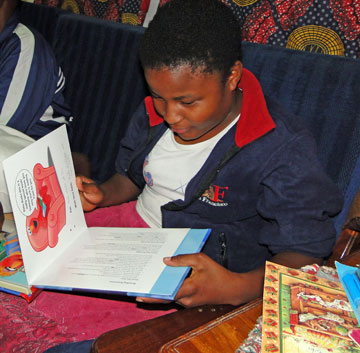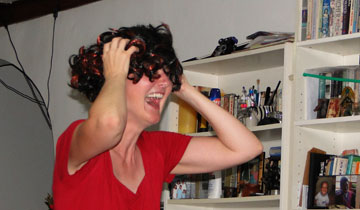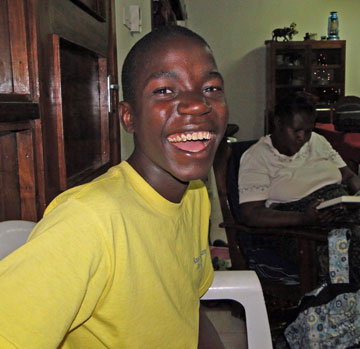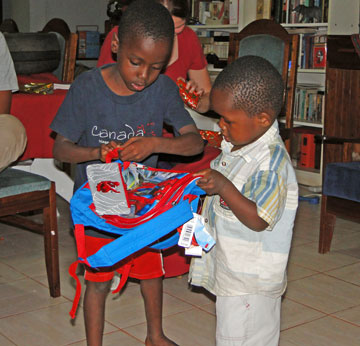 [Photos: Panorama of most of the group, Xerggyo and Kathrin. Xerggyo and shirt from Hanneke. Naomi and whistle from Chiapas. Mama Pendo and Chiapas sewing. Jackie and Pendo and book from Chiapas church. Kathrin sporting her Christmas wig to make her fit in with the locals on her bus trip back home. Ngassa. Baraka and Faraja.]
---
Saturday, December 25 Christmas Day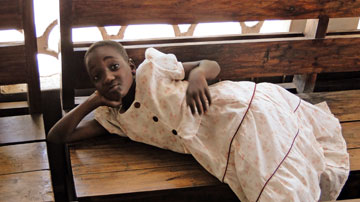 We woke refreshed to the chorus of doves and the occasional rooster and other birds that we could not identify, heralding the celebration of Jesus' birth. After bacon and eggs and a special German Christmas bread, we crammed [all nine of us] into the van and bounced off to church. We admitted that we were late, really late, when we heard the bishop preaching as we drove up. We had missed a couple hours of choirs. The church was modestly decorated with red banners and white doilies strung across the sanctuary. We wedged ourselves into the back pew. Following an excellent sermon, the choir sang until it was time to eat, two hours later. We were seated at the head table, along with the bishop and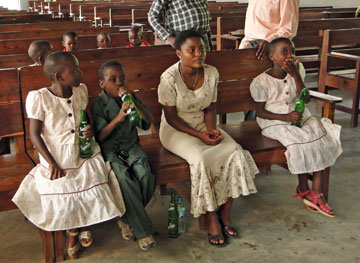 his wife. It was a sumptuous affair. It is amazing how Taborians can consume such huge quantities of rice. Plates are stacked high with white and brown rice, then chicken, spinach, potato and beef get perched on top. The supply of warm sodas was unlimited. It was strange to hear Bing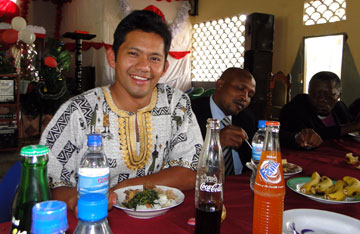 Crosby singing, "I'm Dreaming of a White Christmas," as we ate. (Later someone confessed that the musical choice was in honour of their Mzungu guests and that such music would quickly put many an African to sleep.) The concept of snow and sleigh bells did not resonate either and who has heard of writing Christmas cards?
After our celebration feast we returned home, some to rest and some to write. Kathrin is quite ill and we are not sure if it might be malaria. She is feverish and very lethargic. It started in church this morning. If she does not feel well in the morning, Hanneke will take her to the hospital to find out for sure what is wrong with her.
[Photos: Part of the church choir. Jackie resting between services. Jackie, Baraka, Pendo and Kiri. Xerggyo at the head table--bishop, second on his right.]
---
Sunday, December 26 Christmas and boxcars

Kathrin looked a bit better this morning, but she is still not really well. She was feverish throughout the night and has joint pains. Hanneke took her to the clinic so we will see soon what the diagnosis is. Xerggyo is strumming Hanneke's guitar for church next Sunday. He hopes to sing a Swahili song and give our farewell. It seems so hard to believe that we have only one full week left here with these wonderful people!
The clinic was closed so Hanneke put Kathrin on malaria meds since she has many of the symptoms of malaria and the drugs are not really strong.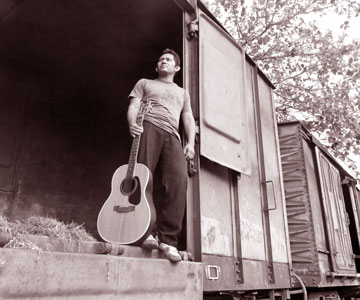 We drove to a church that is being constructed on the edge of town. Eight years ago the congregation started the building with eighteen families and now they are thirty-eight families strong. The church only needs windows and a roof to be complete. Today's celebration was a fund-raiser. A tent canopy was erected to allow the festivities to proceed either in an African rain or scorching sun. They also constructed a two-classroom school for Compassion that will be for the children in need in the area. We were expecting to just be part of the congregation, but when Hanneke arrived, they decided that she should be the guest of honour and that her friends should join her. We were seated at a table in the front in the middle of the cranked amplifiers for the choirs. We were introduced and expected to convey our greetings from our home churches. Because Kathrin was sick at home, Hanneke used this as an escape route which allowed us to leave just after our lunch before the full day event.
In reality, I think that Kathrin was enjoying the peace and quiet of home.
In the afternoon Xerggyo and I hired piki-piki transport and putted off to the railway station to record his Johnny Cash-style videos. We had no trouble finding abandoned box cars and they became our studio. He did three songs: one in Swahili, one in English and an original composition in Tzeltal.
[Photos: Panorama: At the church building celebration. Xerggyo boxcar song--click photo for YouTube video.]
---
Monday, December 27 Overfed Mzungu
It hardly seems possible that one week from now we will be on some bus headed east to Dar es Salaam. Xerggyo hopes that we might be able to take the train part of the way, but that does not look possible. Already, he will begin his epic journey: 14 hours on the bus to Dar, overnight in Dar, 8-hour flight to Amsterdam, 7-hour flight to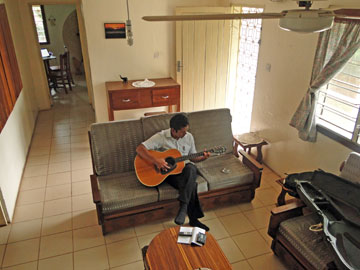 Toronto, 6.5 hour flight to Mexico and then 12 hours on a bus to home.
When he finally does arrive at home he will be travelling for three weeks, visiting many churches in preparation for leaving on his next journey in March.
Xerggyo took the bike to the office construction, moaning about the new pile of boulders that arrived Saturday. Ngassa and I went downtown to get some wire for the solar panel. Apparently, it needs to be in direct sunlight. There were four solar shops near the market and each one very helpful sending us to the next shop. Finally we got 8 m of suitable wire to relocate the panel. We had a soda and then negotiated with the piki-piki couriers, but they wanted too much so we defaulted to the bike guys. One fellow sized me up back to front and set a high price. After negotiation he came down to 800 Tsh.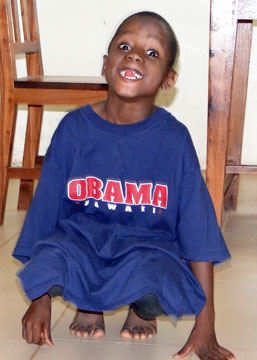 We positioned ourselves on the parcel carrier on the back and threaded our way through the market crowds ringing our bell in response to the beeping horns of the speeding piki-pikis. There is a long, gentle hill and I realized that I must be heavier than my cyclist had bargained for. Most of his other passengers are trim Tanzanians or overfilled bags of rice...I think he thought I might be closer to the bag of rice! I could feel his panting as the slope persisted. The seat had some sharp edges and with every bump it felt like I was riding on a cookie cutter--I did feel more sympathy for my courier. Ngassa must weigh a mere 30 kg and the other cyclist breezed along making comments as he rode. After fifteen strenuous minutes we arrived near home. My guy commented to his partner in Swahili that his mzungu had definitely eaten way too much. As he struggled the final few meters, there was a clunking sound and we tipped sideways. His pedal sheared off under the strain and landed in the dust with a thud. We offered to walk the remaining distance and I paid him his original asking price and apologized for the damage. We watched as he walked his wounded steed back into town.
Ngassa and I installed the solar panel high up and facing the bright sun. Hopefully it will charge now! Baraka has been sporting his Obama t-shirt all day long.
The kids at school call him Baraka Obama.
[Photos: Xerggyo practising on Hanneke's guitar. Baraka and his Christmas shirt.]
---
Tuesday, December 28 Work Day
It was a strange night. I had to plug my ears again, but this time because of an evangelical church that was about .5 km away. Their blasting music went on until 1:30. I wondered about the witness to their neighbours—there would be little doubt of the message being heard, but I had some concerns about the method. Choirs and electronic amplification have become a cornerstone of worship here over the past few years. Much of the traditional African music has been lost—voices and drums have been replaced by a generator and powered, tower speakers cranked to a volume that matches a rock concert. There is little concern about any hearing damage or the disruption of the neighbourhood. The winning church is the one with the most powerful amps. Often the dancing that accompanies the singing seems to have little to do with worship, although it must be meaningful for many. Some churches have been able to tone down the din, but not all, and certainly not last night.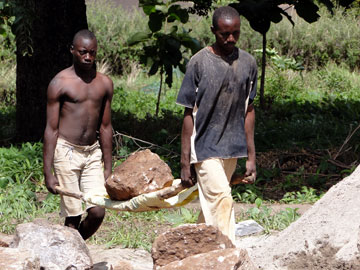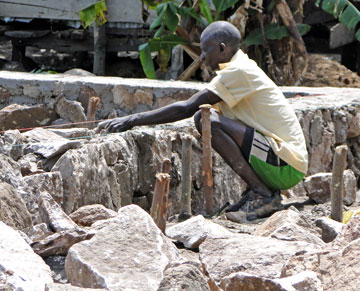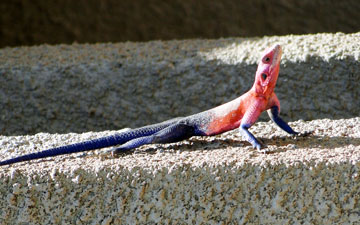 Xerggyo spent the day hard at work on the construction. He carried boulders and mixed concrete. There is real progress on most of the foundation. I picked up our bus tickets and some materials to make a piñata party for Ngassa, Kiri and Jackie's birthdays...all this month.
Mama Pendo and Pendo will be leaving on the bus at 6 am tomorrow. Kiri and Jackie will be staying here in Tabora.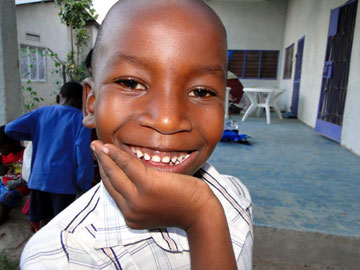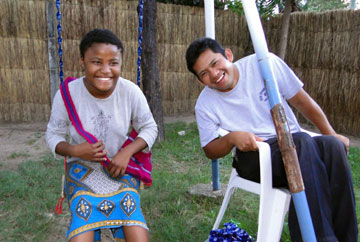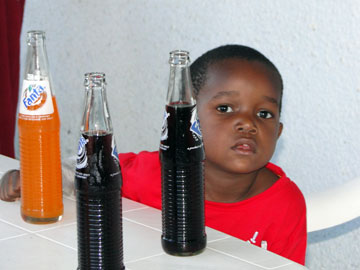 [Photos: Carrying more boulders. Making the cement foundation. Agama lizard.....Izzy, Baraka's friend. Pendo and Xerggyo with Chiapas purse. Faraja.]
---
Wednesday, December 29 Home at last
Tabora is becoming much like home and it is harder to find new things to write about. The weather, the blackouts, riding piki-piki taxis into town, enjoying the vast array of Hanneke's cooking, playing with the kids, fixing things around the house, working on the office construction site, the twenty minutes of heavy, unpredictable rains and even the sounds of the night, have all become rather comfort foods now and part of our natural environment. Xerggyo takes each spare minute to write his extensive journal.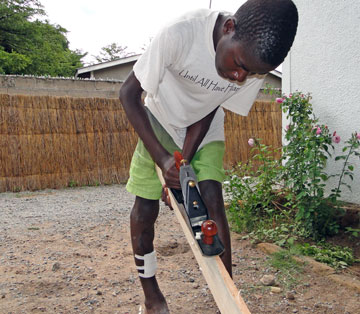 We returned to the refrigerator shop with Naomi. We plugged in two used models. One seemed to work while the other did nothing. We had planned to take it home in the back of Hanneke's van, but we decided laying it down might not be a good idea so we hired a hand cart and two couriers. Hopefully it will be at Naomi's home now. She has some concern about the wires dangling from the plug in her wall, so I might try to fix that later.
The termites ate the floor of Baraka and Faraja's closet. We went to the lumber mill for some wood [the wood here is heavy and not finished too well]. We asked them to plane it more, but that meant waiting another day until the electricity was turned back on. Xerggyo, Ngassa and I measured, sawed, planed and installed the new floor. Ngassa was an eager worker and a good learner. We applied generous coats of anti-termite liquid. A rather oozy concoction with an evil smell that should at least keep humans out of their room.
Xerggyo and Ngassa spent the afternoon at the Orion Hotel having lunch and some time together. It was a special time for teenage Ngassa.
Hanneke picked up a local version of an IKEA closet. Kathrin, Hanneke, Ngassa and I spent several hours with the confusing instructions and delicate material to finally complete the assembly at 10 pm.
[Photo: Ngassa finishing the cupboard wood.]
---
Thursday, December 30 Basic stuff
Today is hot and clear...stark white clouds dominate the Mediterranean blue sky...palms sway and the mango trees provide shade and coolness. We have devoured so many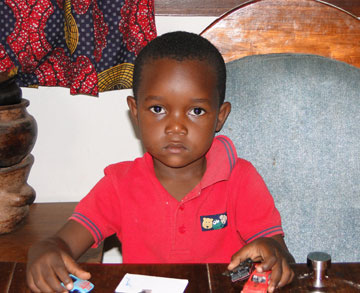 delicious fruits in the past month here. We were to go up country to visit Selene so Kathrin could check the condition of his leg. It turns out that his father is not well, so the trip is postponed again, until tomorrow. We are running out of time to visit him before Kathrin goes back to Arusha next Monday morning on the same bus as us. She was involved in his care from the beginning and wants to have a chance to examine his condition.
We moved the new cupboard into the girls' room. They are so happy to see their dresses all in order. While I worked on Hanneke's printer, Ngassa took the kids outside and tossed them in the air until they were all exhausted and then they all sat down and he told them stories. Xerggyo is at the stone quarry [work site], and this will be his final day. He has made good friends and had many significant conversations. The walls should begin to rise soon, after we have gone. I took some tools and accompanied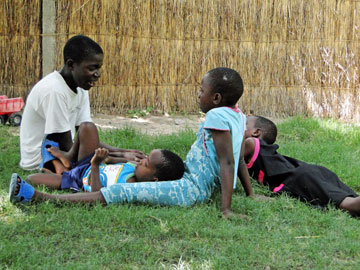 Naomi to her two-room rental flat. It was so bright outside but inside the corridor was in total blackness. I slowed my pace but continued. Finally Naomi turned on a light from the far end and laughed at my anxious expression. Tanzanians have very good night vision.
The door has already fallen off the new cupboard and on top of the mosquito net which was in tatters. Not sure how our construction went so wrong.
The kids are much more eager to spend time with us—they have always been climbing all over--but now they want to be held or just talk. They know that we will be gone soon and they need to leave a final good impression. They are wonderful yet Baraka remains a challenge...like pushing his friend Izzy off the swing and kicking him, unplugging my computer three times, deliberately stomping on the neighbour's vegetable garden. After he is scolded, he snuggles up to sleep on your knees.
[Photos: Faraja. Ngassa, Faraja, Kiri and Jackie spending time together.]
---
Friday, December 31 The End of 2010
We bounced along the road that runs fairly straight, nevertheless crosses the railway tracks three times, until we come to the dirt road that leads to Selene's family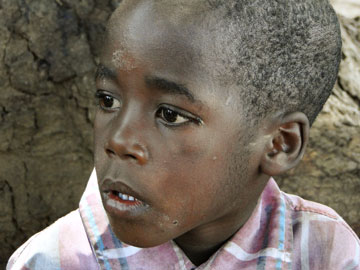 settlement. He lives there with 25 siblings, brothers, sisters and cousins. [Originally a small family unit moved from the Shinyanga area when land became overcrowded and water too scarce.] The family lives in five mud-over-woven-sticks homes with a covered cooking area in the centre. No one speaks Swahili, only Sukuma [their tribal language]. Everyone looks poor and no one really ever smiles much. The kids do not look like life is much fun for them. Selene swaggers from one of the houses, propelling himself along on his long stick and leg cast. Like Ngassa, he has osteomyelitis, a horrible disease that spreads in the blood, usually caused by e-coli. He is eight, but could pass for a three year old. His face is sad and the flies that cluster there seem to go unnoticed. He allows Kathrin to examine his open wound. She is pleased with the progress and feels that the fact that he is walking is a major answer to prayer. His uncle is doing a good job with the dressings that have been provided by th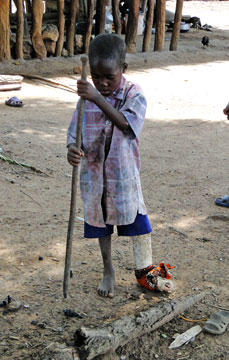 e mission hospital near Nairobi. The cast, like the kids, is dirt caked. The family provides us with a huge pan of delicious mangos, picked from the trees that are so abundant in their area. To see Selene walking and functioning is encouraging, but he has a long way to go. Once the infection is cured, he should return to Nairobi to see if Dr. Meade will be able to do bone replacement. This is a very expensive undertaking. Meanwhile, he is the focus of this small family unit of grandparents, brother, sisters, uncles and aunts. There is some intermarriage among the family as well. Mangos are their staple food, and they survive with subsistence farming—rather an isolated outpost, cut off from even the most basic of worlds.
Hanneke would like to see a school set up in the area, this family alone would be the basis of a student body.
New Year's evening was spent sharing our experiences as a family and then toasting each other with the Tanzania staple--sodas. Walking Naomi home after midnight was an awesome experience. The jet black sky was perforated with dazzling stars. There were distant sounds of people welcoming in the New Year, but little could spoil the amazing, tranquil beauty of our first glimpse of 2011 in our Tanzanian home.

[Photo: Eight-year old Selene, who is suffering from osteomyelitis. #2 same. Panorama: New Year's eve.]
---
Saturday, January 1, 2011 New Year's Day
It felt strange to be jostling through the market on a holiday morning. There was little indication of a holiday here, only a few of the more established shops were shut. Your senses blur as you duck through the tight alleys and past everything you can imagine: from an Ottawa Senator's bomber jacket, to an extensive collection of solar equipment and a huge pile of a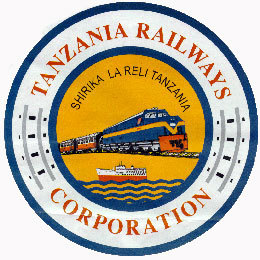 thousand or more shoes--like a lorry had tipped its load right in the market. I was hunting for an extension cord for Naomi's new-to-her fridge as well as a jacket for Xerggyo to use in his seven hour lay-over in Amsterdam. I easily found the cord and bargained for a well-used New York Yankees coat for $9 CDN.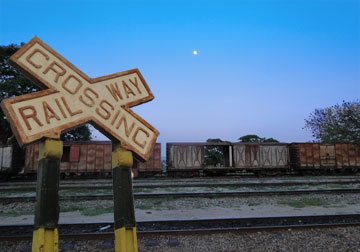 Soon some inner gravitation pulled me back down to the railway tracks. Tabora was the cross point for the Tanzanian railroad until the past ten years. British engineering is extensive, but the system has become derelict from lack of maintenance. Tabora's mentality becomes understandable: amazing structures and facilities are constructed, but left to whimper and unwind. A long line of rusty box cars and third class passenger cars stand idle while a small shunt engine bustles about in the heat of the day, not seeming to have any real purpose. Now that the train no longer crosses the country from Dar to Mwanza, only a few passenger trains leave Tabora. It seems so sad, as if someone has pulled the oxygen out of the town and is standing by to see how long it will take to die. There are few businesses that are run well, with exceptions like Barclays Bank and the Catholic book store. The hospital is expansive and they are fixing things up there pole pole [polie polie--"very slowly"]. The "all aboard" no longer cuts into the night air and the whole of Tabora grieves. When the train stopped in Tabora, the whole town would amass down at the station to sell their wares through open windows or drag luggage great distances. Now the night at the station is as desolate as the day. Tabora's life blood has dwindled to a trickle and it seems as if no one cares. Oh, for the sounds of squealing brakes and the air horn—this silence is killing me...but the walk for 3 km along the rusting steel rails is a nostalgic adventure. I was asked for directions, so must be getting to look like I live here, but sadly this is our last Saturday.
[Photo: The crossing sign almost feels obsolete.]
---
Sunday, January 2 Final farewells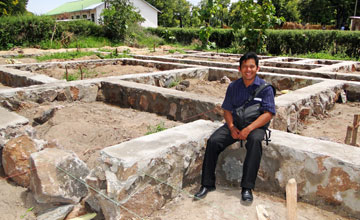 The new day has raced to greet us, bright and sunny, but only on the outside. It seems so impossible that this is our last day. Our plane just touched down on African soil yesterday, did it not? Cancelled flights, a week in Mwanza, the phenomenon of the Serengeti, the acrid smells of drying dagaa fish, the hours spent with Faraja, Baraka, Kiri, Jackie and Ngassa, the tears stifled at the home of Selene, the incredible meals as a family with Hanneke, walks through the market, piki-piki rides downtown, the abandoned railway station, many times of prayer, the hard work, the Indian Ocean, being constantly with Xerggyo are all part of the blur that consumed a brief thirty days. Never to be repeated, these memories jostle in the mist and dust of the mind.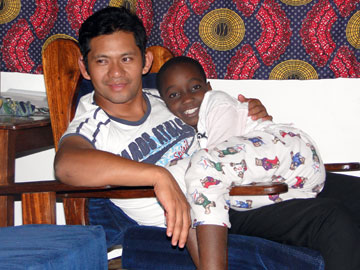 The church service seemed more meaningful. An occasional Swahili word crept through, but the atmosphere was spiritual. The greetings, the singing, and the almost familiar faces of a few began to make the tapestry take shape.
Near the church, w
e spent time being thankful for the foundation work that had been completed.
We suggested going out to eat—no dishes tonight—and Hanneke welcomed the idea. We arrived at the colonial Tabora Orion Hotel at 4:30 and the kids headed to the swings and we ordered our dinner. The food finally arrived at 6:30—nothing really complicated, but this is normal for fine dining in Tabora. The food was good, but our final meal together was not a highlight. The big entertainment was watching as two of the host of hotel workers spent 20 minutes gliding around a small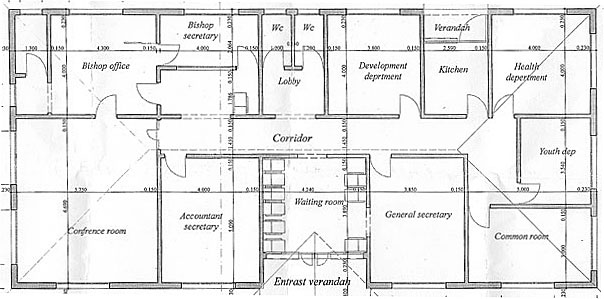 patch of floor on towels to make it clean. They almost performed dance steps in pace with the seventies music that hovered in the background. Cliff Richard's Summer Holiday reminded us that our African summer holiday had actually come and gone and we were now sitting in its wake—hard for this to be our happiest time, although it was a necessary time of preparation. One last loop by the station and we were home.
Saying goodnight to the kids was traumatic. Crying, cuddling and restraining were the order. Baraka went into convulsions of tears, and clung on. His little body trembling and his lips sticking straight out revealing his new tooth that had just broken through. His sobbing and the tears that flooded his pillow were the last I saw of him as I left his tiny, mosquito-net shrouded bed.
[Photos: Xerggyo on the completed foundations. Floor plan of complex. Jackie and Xerggyo.]
---
Monday, January 3 The trip
4 am came earlier than we anticipated, nevertheless, many good things seem to come to a crashing end. We cold-showered and raced across the road to Hanneke's to meet the taxi that would take us to the bus station. Hanneke's home was strangely quiet at this hour and we had our last cup of coffee together.
When the taxi arrived, Kathrin, Xerggyo and I loaded our reduced luggage in the trunk. The taxi had a familiar Tabora rattle, but seemed fine. Then the front wheel on the right [the driver's side here] locked up and we came to an abrupt stop. "Polie, bwana...she is stopped. We cannot go no more!" Fortunately, we were only a half km from Hanneke's. The taxi driver and Xerggyo raced back through the night. Hanneke gave her van to the taxi driver to rescue us. The bus station was a maze of vendors and travellers—hardly discernible who was what in the darkness. They refused any checked bags so we crammed everything inside. The racks above the seats were too small for more than a purse, but we managed, somehow. The three of us would take this bus for the first two hours then Kathrin would continue on to Mwanza and we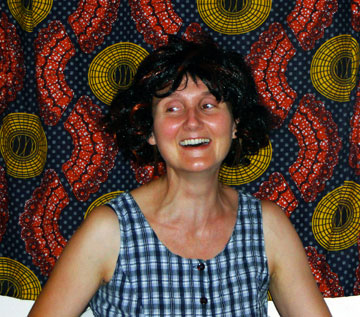 would get another bus to Dar. The road was washboard and the bus shuddered along a fair speed. Every weld was tested as well as the joints of the passengers. Why the bus or its passengers did not fall apart are small miracles. Xerggyo and I regretted the coffee we had enjoyed at Hanneke's. This bus had no facilities and even if there were, it would be impossible to navigate to the back. Then, in the middle of nowhere, the bus stopped. I was not sure why, but everyone crowded off...it was a designated pee break--off the road or just behind the bus. It was very interesting but very necessary. Hard to imagine such a thing occurring back in politically correct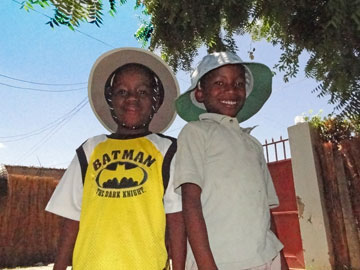 Canada without multiple arrests.
When we arrived at our transfer point, we were late. We said quick goodbyes to Kathrin and ran up the road to get our next bus. On the way Xerggyo dropped his ticket on the road. Someone standing by the road ran after him. Our new bus, a luxury coach, was even more crowded. We were soon to regret what luxury meant. The seating is two on the left and three on the right, leaving little room for either seating or any aisle. Xerggyo seemed to feel the effects of his motorcycle accident after eight hours of having his knee in his mouth. My feet were asleep and I nearly fell on another of our four pee breaks. Luxury was having a TV monitor and horrific videos that played at painful volumes—one main speaker was directly over our seat. The videos were some violent sit-com or dancing that was almost obscene. Xerggyo called it our luxury persecution. Nevertheless, we did arrive safely at 10 pm after a gruelling sixteen hours. The bus station is 15 km out of town, so you take a mini bus or taxi into town. At this hour, we were not going to risk getting another wrong mini bus. Taxi drivers milled around us like the flies on the meat carcasses in the Tabora market. We bargained with one and hopped into his ageing cab. We arrived at the Lutheran Hostel and checked in. It is a fine place with air-conditioning and overlooking the ocean. I will be here for three nights and Xerggyo for one. We crashed and enjoyed a wonderful sleep on our last night together.
[Photo: Kathrin preparing for her bus ride. Baraka and his buddy, Izzy in our hats.]
---
Tuesday, January 4 Goodbye in Zanzibar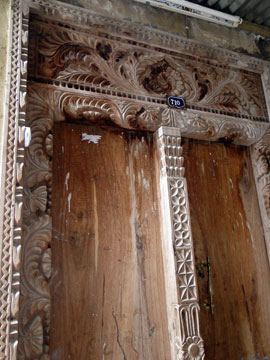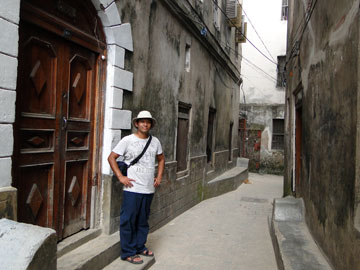 We woke feeling totally refreshed. We enquired about getting to Zanzibar and discovered that the boat left at 9:30 and it was 9:20 now. Someone from the hostel piled us into his car and we sped off to the wharf and the booking office. We were the last ones to board the luxurious, British-made catamaran. Two hours later we arrived at passport control and were on Zanzibar. It is a unique colonial island with narrow streets, and buildings crowding over the streets. Every inch of the stone town near the wharf area, has something to sell. We strolled around for three hours and absorbed its atmosphere.
It is famous for the intricately carved doors.
On the return, the salty sea breeze and endless ocean panorama felt like the right way to end our month-long adventure. A choir was practising at the church next door. It was an amazing voice-only choir singing traditional African sounds--such powerful voices blended in perfect pitch. We walked to the Holiday Inn—the exact location where we had squeezed ourselves off the mini bus one month ago. We had a pleasant meal and returned to finish packing. We took a taxi to the airport, said our goodbyes and thanked each other, and I returned to the hostel for two more nights. Xerggyo left for Amsterdam and his 10 + 7 + 6.5 + 14 hour journey to Chiapas
.
[Photos: Xerggyo in the streets of the stone city on Zanzibar. Door carving in Stone Town.]
---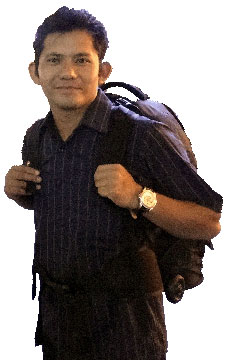 Wednesday, January 5 The end is here
I enjoyed a quiet day. I slept until eight then meandered over to the Holiday Inn, about two km from here, to use the internet. I have been munching on peanuts that were given by a neighbour in Tabora, so I just had coffee and juice as I caught up on emails.
I then walked around Dar es Salaam for three hours. The sidewalks are non-existent in places so you go onto the street, but I have gained a fair bit of expertise in crossing streets and not being killed. I also look down now and have missed open manholes and similar craters. One shop was selling furniture and offered free bicycle delivery. A bike courier had 50 dozen eggs strapped on the back. Streets are crowded and everyone seems to navigate around others, vendors and unexpected obstacles without difficulty. Overcrowded sidewalks and buses are the norm. I felt safe, although some have suggested that was because I am so naive.
When I returned to the hostel, my clothes were sopping wet and I did not realize how completely exhausted I was. I bought two Mountain Dews and finished them in a few gulps, then crashed for a couple hours. Now I am headed back to the streets for more exploring.
This seems to be a rather empty end of a time I have enjoyed sharing with the people of Tanzania [especially Tabora], Hanneke and her family and friends , Xerggyo and you. I wish you could have been here to see and to smell everything firsthand. You must be on African soil to sense the warmth when someone says, "Karibu Africa"—"Welcome to Africa"—and mean it.
On the other hand--here are Xerggyo's comments from Toronto..."Amigo teribu I Am in toronto, big amigo [John Reaves] is coming. How about you I thing you are at the airport. I called your people here they asked about gringo my answer was I lost in africa they were very happy for that. See you on skype amigo I míss my amigo"
[Photo: Xerggyo leaving Tanzania.]
---
Other articles by Don:
Whiskey and God's Grace About the changed life an alcoholic father in the mountains of Mexico
In Tanzania About a visit with Hanneke and her work in Tabora, Tanzania
Xerggyo's Dark Ride About Xerggyo's near death journey on his motorcycle
Chiapas, Mexico Recollections of the wonderful people of Chiapas State, Mexico
Casavant Mouse Five mystical encounters designed for kids of all ages about a wonderfully brilliant church mouse
My Encounter Near drowning experience off the coast of Liberia