Donna Dong August 21
Donna will do her final review of the reflections she has written on the Book of Esther for Scripture Union. Pray for clarity, that the Book of Esther will be powerful for readers, and that she meets her Oct deadline. Pray for Donna as she also prepares curriculum and Bible teaching for three church and retreat venues in October.
I'm heading out to Alberta this week, with Geri Rodman, to visit our Inter-Varsity Camps: Alberta Pioneer at Sundre and at Rocky Mountain.
---
Knox Sanctuary Renovation August 21

Scaffolding being erected. Photo: Alvin Sim
---
Nabeel Qureshi August 20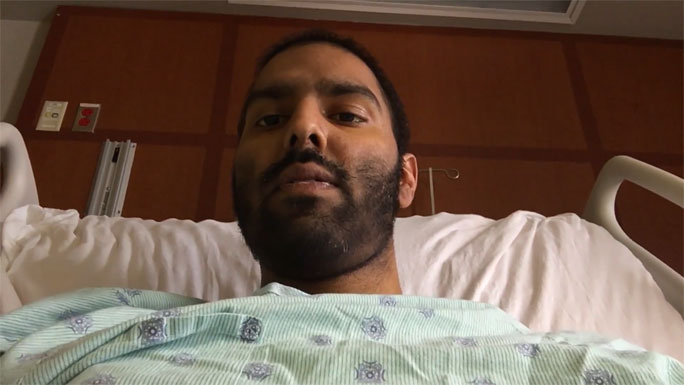 Click here for Nabeel's health update #39
---
Dave and Susan Jeffery August 20
This fall we are trying a different approach to the two CanIL courses that focus on language learning. While we think this new approach will benefit our students, it means an increased workload for our teaching staff. Pray for energy and grace and, in particular, for a guest teacher from Dallas who will lead the first course.
I see from my email sent to you last month that we were just about to set out for a family holiday in the Okanagan. Three days later I would have a biking accident that has significantly changed our summer. Had I not broken my pelvis, Dave and I would be enjoying a week of holiday in each of PEI and Newfoundland right now. Instead, we had to cancel the arrangements we had made. It's been interesting coping and recuperating at home since then. Honestly, it's amazing how much ground I've already reclaimed. However, there's a tenacious pain that seems quite separate from the fracture. Yesterday I felt I might be turning a corner and seeing the beginning of the end of it, but today I'm just as sore as ever. Prayers for a full recovery and the cessation of that pain would be much appreciated.
Thanks to everyone who's been praying for the fire situation out here in BC. This summer has officially become B.C.'s worst fire season ever in terms of hectares burned. We still desperately need rain and cooler temperatures in the interior where most of the fires are burning.
---
Dramatic Burlington fire devastates historic church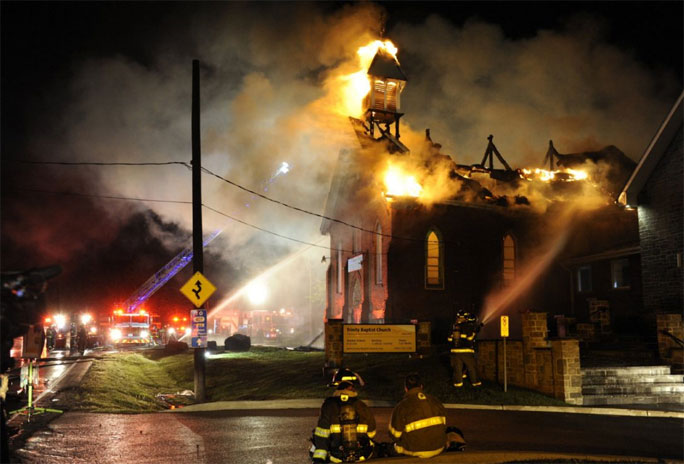 Click photo for details as reported by Toronto Star August 19
---
Xerggyo and Hil August 19
We are very good, the past weekend we had a short travel with Hil, we went to historical places, to understand our history.
Please continue to pr@y for us, because the visa, is not arrived yet. They authorized but they said: to take 3 Months. Normally takes 10 to 20 days.
---
David and Joan Evans August 18
We are not doing too badly. Joan is on oxygen 24 hours which is helping her breathing. David had a fall yesterday which scraped his elbow rather badly, but his wife-nurse is attending to it. Otherwise we are grateful to the Lord for his goodness and ability to get around. David doesn't drive, but Joan does, locally. We pray daily for you all at Knox and greatly appreciate your prayer and financial support.
---
Nabeel Qureshi August 17
"We are grateful to share that Nabeel's surgery went well, and he is now recuperating," reads the status. "As he shared yesterday, due to bleeding issues, his entire stomach had to be removed. During the surgery, it was discovered that the J-tube placement was also causing an obstruction, so it has been repositioned. His post-operative pain is now, thankfully, under control.
verall, Qureshi's medical team is "happy with his progress", and he has "begun practicing sitting in a chair, and it is possible he could be moved from the intensive care unit to the regular floor soon."

The update continues: "Please do keep Nabeel and his family in your prayers, just as you have been so faithfully and generously! Pray for the Lord to give him profound peace and relief to overcome any pangs of anxiety. Pray for ease of breathing and of sitting, so that Nabeel can transition out of the ICU and eventually back into the warmth and comfort of his own home with his dear family." from Gospel Hearld
---
Hanneke Cost Budde August 17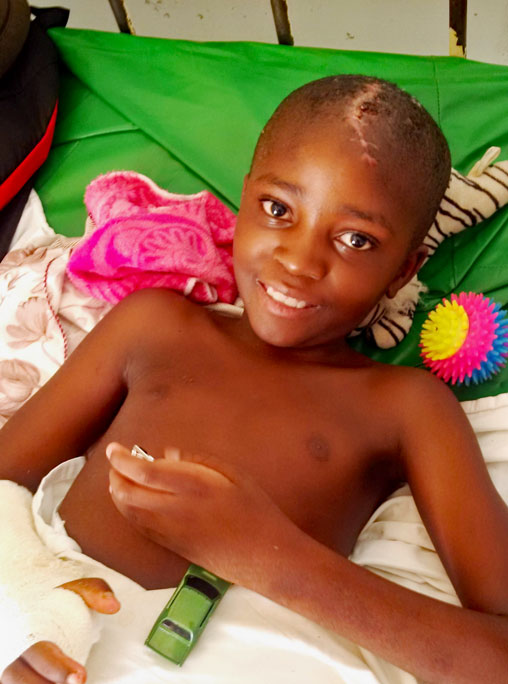 Mahona: "Greetings from Bugando! My interview went well! The interviewer will send the report to Dar!! Sayi is doing well but he sometimes feels some pains in his arm!! I will ask the nurse to make sure they give him some pain killers!
"It's very sad I found him on his bed alone, they didn't bring some food in the afternoon!! I waited until Musa who is taking care of him today. The caretakers of this child are doing exams at the school...so sometimes Sayi stays alone. I wish I could have some money to stay in Mwanza so I can stay with him all the time. I will write you more but I have bought some food for him!! He is smiling widely
."
---
Carluci and Christina dos Santos August 17
We just came back from OPC and enjoyed the weekend at the camp. My message on Sunday was well received. Thank you.
We thank God for grace of hospitality. We've had a full house most of the summer so far – friends and family from Brazil and some missionary families have also come through our home. We were very glad to receive a Brazilian couple with two children who moved to Winnipeg to start a ministry amongst the Brazilian immigrant community in that city.
All three girls are home too!
I appreciate your prayers as I prepare to speak at the Mission's conference of the Evangelical Missionary Society/USA, in Dallas, September 15-17; and also at the Pastors conference of the Assemblies of God, Ecuador, in Riobamba, September 22-24.
All going well at the Mission and at Celebration. Thank you for continued prayer support.
---
Sylvia Dresser August 17
Please pray for good recovery for Ruth Roesler who worked in Irian Jaya for many years. She had a severe infection followed by an episode of being unresponsive for several hours. Later she said that during this time she was quite aware of efforts to get a response but she was totally unable to move or speak. Recovering, she was sent home but was having severe back pain. Finally a compressed fracture of her spine was found and she is in a rehab facility.
---
N L August 17
Praise God! Chyrl, our FFM Administrator, has now received the necessary permission to return to Canada from the Philippines and take up her work here again. She'll be returning in early January 2018. Thank you so much for your prayers! Norine will retire, again.
---
Bill Fitch August 16
"Praise for a largely peaceful presidential election in Kenya - Henry had sent all staff home (upcountry) and closed the studio for a week, but Eldoret was quiet. Now our staff of 10 in Studio Central are back to work with this concern lifted. Thank you Jesus."
"Two of our staff in Eldoret, Sam & Emmanuel, are working on short videos to tell the stories of our students more effectively. Pray that they'll have spiritual insight, storytelling talent and technical skill."
---
Barbara Rahn August 16
Two Christian social workers are making plans to start a counselling centre in Cambodia. This centre would meet a huge need. Pray that plans for this centre will continue to move forward and give Cambodians struggling with mental health new hope in Christ.
---
Leah Hopp August 16
Our mission is debating about renegotiating one of our clinic staff's bond and loan agreements. We paid for them to go back to school and now they do not want to fulfill the three-year bond. The mission disagrees on how to address the situation and other staff are watching closely for signs of favouritism. May God's glory be evident in this tricky situation.
---
Jack and Mary Anne Voelkel August 13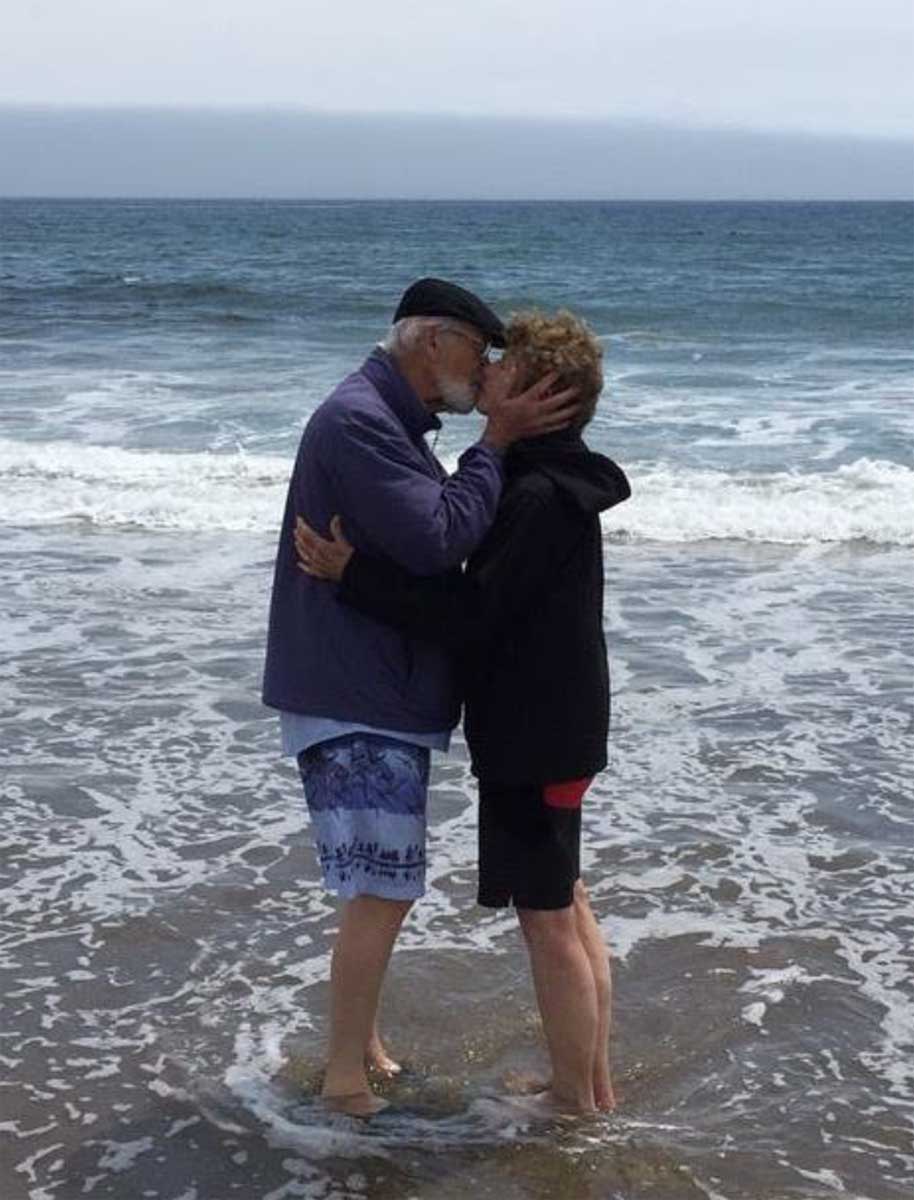 Loving greetings from Tucson!
Please join us as we briefly describe the Sentimental Journey our extended family made to Eastern Canada to celebrate Mary Anne and my 60th. Wish we could include more details and photos; it was a wonderful trip!
We would also ask you to pray with us for Jack's up-coming journey to Colombia to minister to pastors and others.
We are so grateful for your fellowship and interest in our ministry.
Click here for our letter and click here for our itinerary
---
Dave and Susan Jeffery August 12
Are we right now at a turning point in history, a time when future Christians will look back and say God's purposes for the world were being fulfilled in a mighty way?
Greg Pruett, president of PBT (Pioneer Bible Translators, one of Wycliffe's partner organizations), was the speaker at a recent CanIL chapel. He challenged our students to consider that, with God's continued blessing and enabling and considering the present pace of translation work around the world, their generation may see the completion of the worldwide task of Bible translation in their lifetime. Some background: In 1999 the international director of Wycliffe envisioned the start-up by 2025 of a Bible translation project for every people group in the world that needed one. As a response to "Vision 2025", Wycliffe and its partner organizations adopted new strategies (such as cluster projects) that have accelerated the beginning of new projects. As a result, this audacious goal is much closer to realization than once seemed likely. And many of the students at a school like ours have the profound privilege of joining God in bringing this vision to completion. To God be the glory!
Here are three such students, Hannah E. (left), Hannah O. and Rick. The cake is for Hannah E. who has just passed her comprehensive exam and will graduate this term. A PBT member, Hannah is hoping to do a vision trip to one of PBT's fields in October to explore visa options for long-term service. Hannah O. is working on her thesis and hopes to complete her studies in the fall. Rick, Hannah O.'s husband, graduated two years ago and has been teaching one of our introductory classes while he waits for his wife to complete her program. Already Wycliffe members, they are aiming to leave for Africa in 2019 to serve in the Democratic Republic of Congo. All three have been in Dave's classes, and we see great potential in them!
<![if !vml]>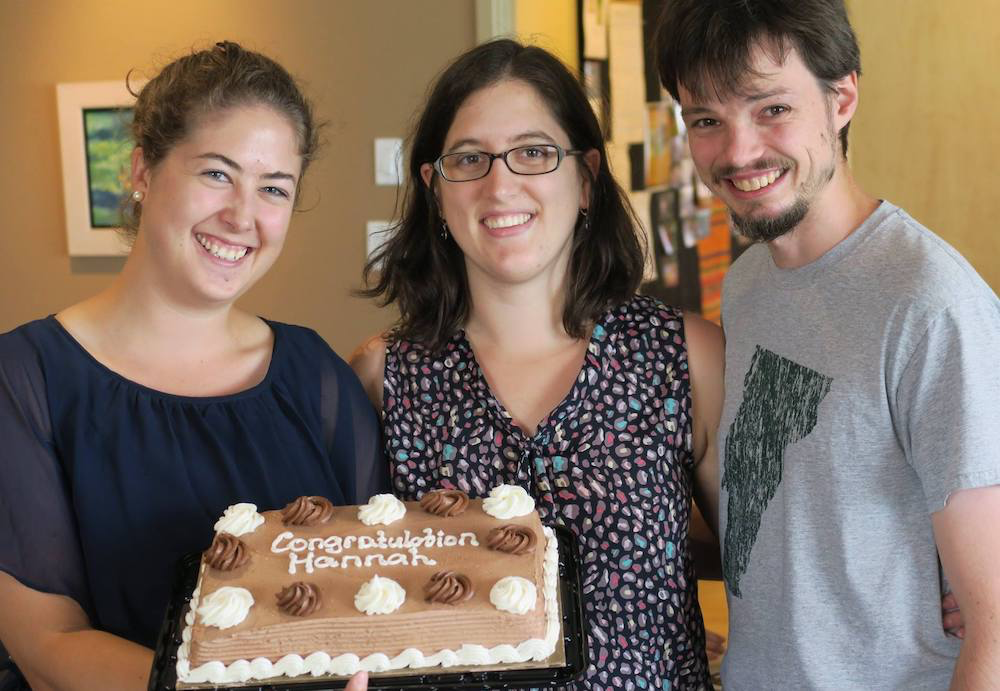 <![endif]>
At CanIL…
The 2017 summer session finishes today. With one of the largest intakes of students ever in CanIL's history, we were scrambling before the term began to provide enough seats for everyone in the classrooms and enough T.A. (teaching assistant) support for our faculty. Dave's Language and Society class had 37 students in it, so he's been very busy teaching and grading assignments. He has teaching assistants who do a first pass on the grading, but he personally reviews their work. His online class of six students wrote their final exams early into the summer term, which allowed him to concentrate on his 'live' class. An extra responsibility this term has been supervising a student about to graduate with a B.A. in linguistics. She needed just one more credit hour to graduate, so Dave put together a directed study for her on the subject of endangered languages and language documentation.
The "Heart-Language Ride", CanIL's annual fundraising event, took place on July 23rd. This year it was different from other years in that a CanIL team of 37 riders rode in the "Valley GranFondo", a popular local cycling event that attracts up to 1,500 cyclists. There were three distances to choose from—50, 100, and 160 kms. Dave was part of the 50 km group. I planned to volunteer at one of the rest stops, but had to cancel due to my limited mobility (more on that in the next section). "Team CanIL" was raising funds for student scholarships and, because our student body has grown significantly, more such funds are needed all the time. Our fundraising goal was $200,000 this year and donations totalled $211,000. Dave was able to raise $900 of his $1,000 goal. Thank you to those of you who responded to his appeal for support!
<![if !vml]>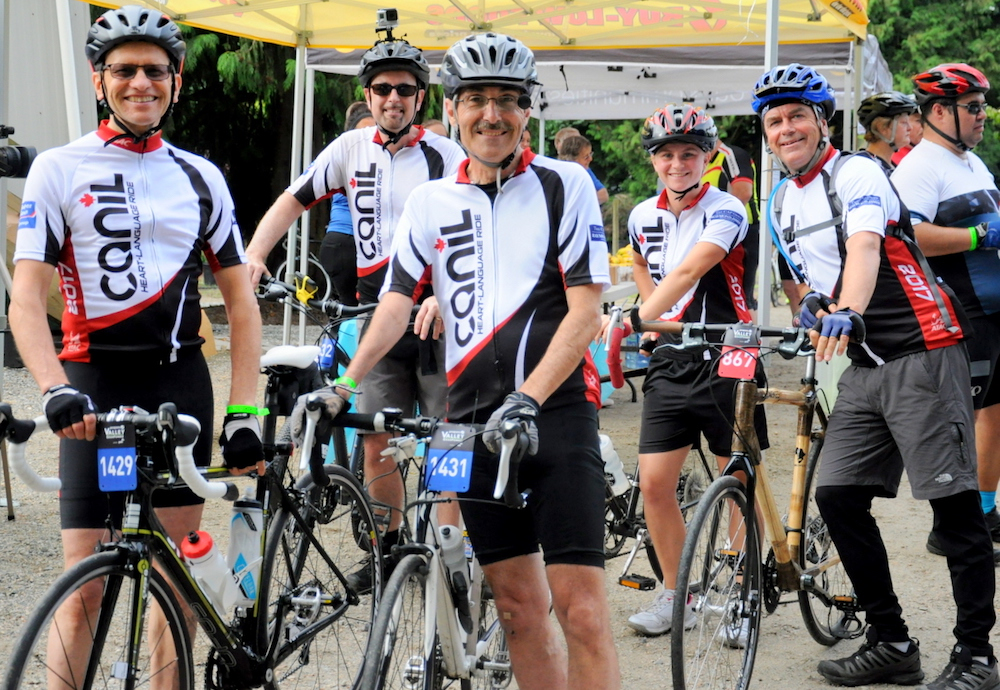 <![endif]>
Dave and other Heart-Language riders at the rest stop…25 km to go!
Health update
We're the couple with three good arms and three good legs between them! Yes, that pretty well sums up where things stand with the Jefferys senior. Dave and I went to Okanagan Falls with our kids for a week's holiday in mid-July and, on our second full day there (July 17th), I had a cycling accident. During a ride along the Kettle Valley rail trail, I hit a patch of sand, fell on my bike and broke a bone in my pelvis. It's been quite painful but, thankfully, it's a stable fracture that should heal without intervention. I am amazed by how quickly I am regaining lost ground. Truly, we are fearfully and wonderfully made and our Creator is GOOD…all the time! Leanne tells me I am experiencing the benefits of mindfulness living, taking the myriad little aspects of daily living at a much slower pace.
I am very happy to again report that Dave's ALS continues to progress slowly. His entire right arm has thinned now, but he continues to have good strength in his left arm and enough capability in his right one so that he's able to enjoy a good bike ride, drive, and put in a full week of work. We've been more successful this term in working from home on Fridays. This cuts some of the time spent commuting out of our week and allows Dave more undistracted time to digitally mark papers and answer emails. Now that I'm convalescing, I, too, am working some from home. A couple of years ago CanIL provided me with a laptop that allows me to remotely connect to my computer at work. This means I can keep up with library email, overdue notices, book ordering and even do cataloguing from home. A CanIL colleague opens up the library, enters borrowed books and books returned into the library database, and reshelves books for me. Since I find a full day of work too taxing right now, I go to work on days when I can work a shorter day and I'm really grateful for this extra help.
Prayer and Praise
As summer semester winds up a number of our students are wrestling with plans for the fall…whether to continue with their linguistic studies and whether Bible translation is God's call upon their lives. Pray for clear leading and that each of them will have grown deeper in their faith as a result of their time at CanIL.
One of our American CanIL families (faculty) has submitted the paperwork necessary for their permanent residence application. Pray that their application will be approved.
The Supreme Court of Canada will hear the case of Trinity Western's law school on Nov. 30th. It's not too early to start praying about the outcome!
Robby's wife, Bitsy, has applied to Simon Fraser University for admission to the December intake of their teachers' training program. She will hear whether she has been accepted sometime in September.
Our son-in-law, Jonathan, is looking for work in our area, pray for a good position. Leanne has successfully completed her Masters degree in Counselling Psychology and has applied for a paid position with a counselling office in downtown Abbotsford.
Remember Dave and I and the challenges of having both of us less than well at this time. Pray that Dave will continue to hold his own against the ALS. Please pray that I (Susan) will regain full and pain-free mobility.
Let's continue to pray for breakthroughs in the treatment and cure of ALS. We get weekly reports from an ALS news site and the number of discoveries being made about this disease is truly mind-boggling. Converting these into a multi-faceted treatment for this illness remains a daunting task.
Finally, pray for rain here in B.C. to extinguish the 150+ forest fires presently burning, clean the air of smoke and support crops through to harvest time.
---
Hanneke Cost Budde August 12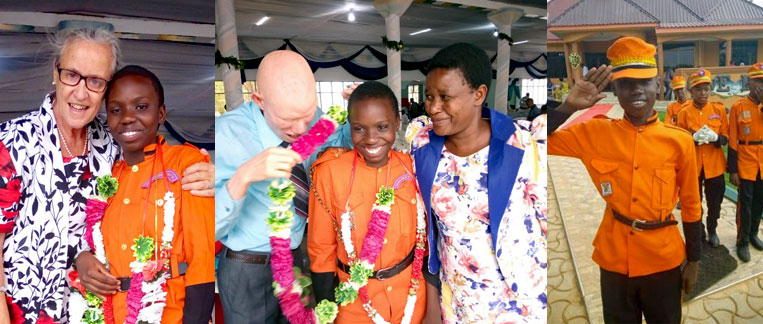 Kiri's Graduation
Baraka and Kiri had joined the guards for the big day. They are to receive and accompany the guests of honor and during the program, which lasts from 7.30 am till 3 pm, they do a performance in marching. There were probably about 2000 people! The hall was filled and outside they had put up a tent for the overflow. Of course the speakers were so loud that my ears are still buzzing but all in all it was a success. Because of the crowd I did not manage to get a picture when she received her special award. I am so proud of my girl!
It was late when we got home exhausted. Then I received the messages about Sayi which was so sad an discouraging. As I prayed for him last night God reminded me of what He has done in the lives of my kids:
- Jacky who was 5.6 kg. at the age of one and three months and later was so psychologically damaged that she was unable to pass any grades...now is in Form 1 doing OK.
- Baraka 5 months old, 3 kg, and having typhoid and bronchial pneumonia. Now in standard 6 and is extremely bright.
- Ngassa, who was on death\s doorstep and was going to have his leg amputated by a doctor is was not even qualified! In Kenya they saved his life and his leg. He is now settling down and seems to be coming to terms with his handicap.
- Mahona who has suffered from skin cancer and finally was treated in Germany. With all his physical challenges like hearing problems and poor eye sight, as well as always living with fear for his life when he travels because of his albinism, finished his B.A. in education and hopes to start work soon. He also hopes to continue his studies and get a masters degree.
- Kiri, who was one and a half when she came to me. Her weight was 6 kg and she was so Physically and emotionally abused that she did not talk until she was 3 years old. She had incredible rages up to the age of 5 when she received Jesus as Savior. She now graduates from standard 7 on top of her class!!!
- Faraja who was pronounced by 2 doctors at separate hospitals that he was completely deaf and would never hear. After prayers he regained his hearing and is doing very well at school.
After thanking God for all these miracles I prayed for another miracle for Sayi. What does the Lord have in store for this little guy? This morning Dr. Isodor called me and we talked about getting a social worker involved as well as a physio therapist. Dr. Isodor said that he would take care of this!...God is good!
---
Luke and Yuko Elliot August 11
Thank you for praying for our summer speaking/sharing engagements. Tomorrow we head for Montreal and Ottawa. Please pray for safety on the road and especially for Luke's sharing and preaching at First Baptist Church of Montreal on Sunday, Aug. 13. We will need to leave Ottawa very early on Sunday morning. Please pray that we will be able to arrive in Montreal in good time for the 10am start of worship service without any mishaps on the way, and that the Lord will bless us all with a meaningful and God-glorifying time.
Please also pray for the Lord's continuing work in the hearts and minds and lives of the children back in Aomori and beyond who would have liked to have gone to Bible camp this summer but couldn't because of the Aomori Christian Center being closed while we are away. Pray that we will be able to reconnect next summer after our return.
---
Hanneke Cost Budde August 11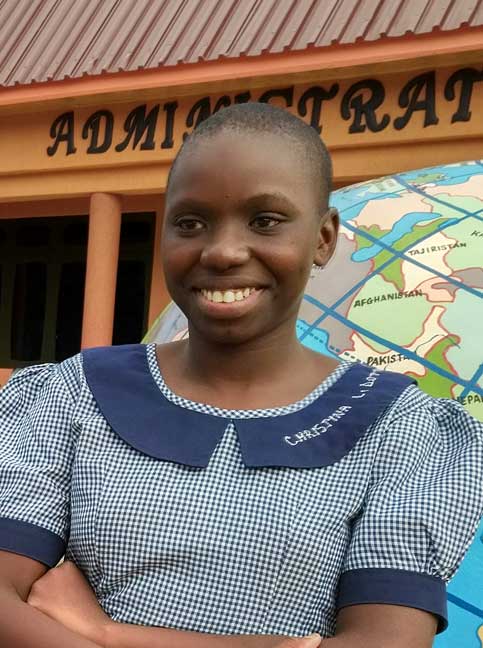 We just got back from Christina's graduation. She received an award of merit.

After I got back I checked my emails and I forward you the sad news about Sayi. The manager from the orphanage dropped this child off at the hospital three months ago and has not been to see him since. Only two students and the matron come to bring food. Sayi needs more then that as you can see in the email that I received from Dr. Isodor who does care. Praise God for him!

A neurosurgeon has diagnosed a spinal cord injury which usually is irreversible.

He will be getting movement as reflexes from his spinal below the injury but not from his brain.

Turning and physio with a nursing care for the bladder and bowel are important.

I will deposit 500.000/-TZsh into this MPESA hospital account. I will follow up on the child when I get back from my visit in Holland. Mahona will visit him next week as he has to go to Mwanza. He will buy him some extra milk. I will look into a wheelchair for him. If there is a physiotherapist who is able and willing to volunteer it might help him.
---
Leah Hopp August 10
I won't be coming back to Canada this year. I hope to come for a few months next summer. I'm managing life on the mission here. Please pray that I will trust God enough to take just one day at a time.
---
Hanneke Cost Budde August 10
We are off to Kahama for Kiri's graduation. She was no 1 with the mock exam of the girls in the whole region of Kahama!!!!!!!!!!!!!!!!! Am I proud? YES!!!!!!!
earlier news
I received a reply from Dr. Isodor who hopes to take care of Sayi on Wednesday!! Praise the Lord! Pray for this child's surgery.
Today Thomas and I had a busy day at Manoleo with many clients with difficult problems. One couple was tested for HIV and both are positive. The woman is 35 and has had already 7 children and now she is pregnant again. We took quite a bit of time counselling them. They have no education and spoke very little Swahili so Thomas had to do a lot of translating. They have no belief in God and we tried to let them know the importance of having God in our lives. Today they had to deal with the fact they have the virus was hard on them and we hope they will come back for further treatment and counselling. In the villages we often find that girls get pregnant around 13 years of age and are married off at a young age for the bride price. This woman, as well, must have been very young when she had her first child.
We also had Rose, the woman with Keloids come. (Knox helped me with her treatment in Kenya a couple of years ago). She came with her 9-month old baby. She can walk but the Keloids continue to give her problems. She now has developed some fungus that makes her skin feel like it is burning. I have taken a picture and will send it to D. Kathrin in Germany for some advice.
We also had some elderly women who are having some small problems but are craving for some attention. There was really not much wrong with them and so today we gave one of them multi vitamins. They left quit happy. Then we had a poor lady who also has 7 kids, but husband, she brought her twins. The boys are about 15 and have sickle cell, Epilepsy, scoliosis and are very slow. The two were constantly poking at each other and we heard a constant complaint: "He hit me!!"
The mother would tell them to be quiet and I made them sit further apart from each other. This helped a little. One of them also seemed to have a fever but the mother refused any investigation or test and only wanted the meds for their epilepsy.
Then there were 5 kids who wanted exercise books for school. They were all in grade one. Three of them looked very malnourished and were covered with fungus. We found out the children were from 2 different fathers and that they live with their grandfather. I don't know if the first father had died. Their mother had left a month ago. The father has no work according to the kids. We asked them to bring their father this week.
All in all many issues to deal with. Later in the afternoon we went to the college were Margret wants to continue her studies. Now we found out that she needs to resit her Form 4 as she does not have enough credits to allow her to study for a B.A. She can start next January. She does not know this yet but Mahona will talk with her and promised me to help her succeed.
From her school we went to the municipal building where I spoke with Dr. Zubeda, the HIV coordinator and shared my concerns regarding the younger people in the Itonjanda area contracting the virus. She shared my concerns and is planning an outreach in our area.
After that we went home and Naomi, who is improving quite a bit, left for her own home. I cooked our meal for the evening, Ngassa came in at 7 pm, we ate and then I had to clean Ngassa's leg and do the dressing. The wound is now almost closed! Praise the Lord!!...
Tomorrow is a public holiday. I might even get a time to rest! I am planning to slaughter our rooster tomorrow. I have now 9 grown hens and two young roosters and 6 chicks that are thriving. One of the young roosters will be our Christmas dinner! Karibu sana!
---
Scott and Beth Hurd August 7
We give thanks constantly for the prayerful support of so many for Anne and for our wider family. Thank you for journeying with us, now for more than a year!
We are thankful to God for some wonderful family time for Beth over the last five weeks. She travelled to Canada and the US to spend time with her parents, and with Anne, Coleman and the children (who were able to travel from Pennsylvania up to Toronto, and then to Parry Sound, to visit Anne's grandparents for a few days) . Beth then drove everyone back down to the US for some time with Coleman's family at the Long Island shore -- a nice family time together, and spent her last week in Ottawa with Andrew and Claire.
Anne was well enough to make the trip from Pennsylvania to Toronto and Parry Sound, but is pretty regularly in need of intravenous fluids, since her body isn't retaining the necessary fluids and salts from her regular diet. So, she travelled with her own IV kit, and thanks to the kind help of some friends-who-are-nurses, she was able to get additional fluids as needed at points along the journey.
Because she needs these fluids fairly regularly, the doctors are looking at putting in a "port" sometime in the next couple of weeks -- a semi-permanent connection to allow easier hook-up to IV fluids, rather than constantly trying to insert a new IV line in her arms (which has been very difficult, since her veins are notoriously difficult to find and connect to). I've suggested that she opt for a hybrid fluids+USB port so she can also charge her iPhone directly, but I don't think that option has made it through the clinical trials yet... :-)
Anne is fairly stable at this point, with a monthly cycle of lanreotide (an injection to help with the cancer symptoms), followed by a few rough days until the medicine takes effect. Then, she often has a week or 10 days of feeling pretty good, followed by a couple more challenging weeks as the medicine wears off toward the end of the month. Throughout this cycle, she often needs additional fluids, and is still having some challenges with fainting. They are expectantly awaiting the arrival of their au pair from South Africa, who will be living with them for the next year to help with childcare and other duties around the home.
We continue to trust God for his grace and mercy, and give thanks for precious time together (both physically and virtually, through FaceTime), as we pray for His strength to be shown through our collective weakness.
We remain deeply thankful for your prayers and expressions of support for Anne and for us.
---
Mary Jane Fandrich August 6
In God's universe, it's always morning! He never slumbers nor sleeps.
And He dreams up the most unexpected opportunities: I've spent the summer tutoring and directing Syrian
adults and children. One morning I happened upon Deuternonomy 14:29 in my ArabicBible computer program.
It was sort of by accident, and I found it introduced me to some vocabulary I was missing: stranger, orphan, widow.
While tutoring a woman trying to prepare English for an exam, I asked her to read the verse to me so that I could
get the pronunciation right. She became fascinated and read on and on in Deuteronomy (!). "We have this in the Kuran",
she said. I responded, "Where do you think the ideas in the Kuran came from?" A real eye opener for her.
So then I opened up Psalm 103 in the Arabic, and she was enthralled. "Beautiful" she said. God has His way of worming
His love and Word into hearts.

It's been a very full summer, and I'm looking forward to seeing many of you in Dallas in late August, September. There's a large
box of teaching supplies packed and heading for Home of Hope and wherever opportunity offers.
---
Ruth Thomson August 6
You know about my adopted son David who is running the orphanage in Kenya. Well, he is trying to get a visa to Canada to come and visit me. His avowed purpose of this visit is to take care of me. I think he thinks I have one foot in the grave. And my purpose in helping him get this visa is to give him a rest, both physical and spiritual, from his heavy responsibilities at the orphanage and to get him healthy – he's always getting malaria. He asks for prayer from all of you that 1) God would make this visa possible in spite of all the obstacles, and 2) for the Kenyan presidential elections on Aug.8. All the other elections have resulted in bloodshed. And already a man on the electoral commission has been murdered. With tensions running high, the orphanage is in danger.
As for me, I am thankful to the Lord for good health and I am working on revising the Kayapó New Testament. I hope to return to Brazil in December.
---
Hanneke Cost Budde August 6
Pray for this little one. I sent a note to the Doctor who has helped Ngassa, Kashinje, Thomas, Naomi,etc. He is very kind but he also needs payers as he is having an overload of patients. Pray he will be able to help Sayi. (I wish I was younger and I would take him home!!!!
---
Donna Dong August 4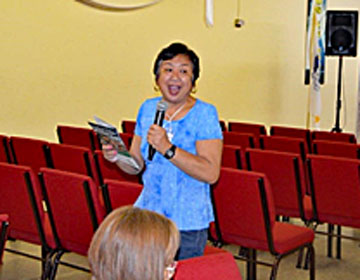 GOOD NEWS! I have so much to share with you about what God's doing this summer at Inter-Varsity's Ontario Pioneer Camp!
BRING M-E MINISTRY DEVELOPMENT TO CAMP? Five years ago, it seemed right that I shift from Campus Ministry and direct my attention to Inter-Varsity Camp Ministry--to see how we could make the overnight summer Christian camp experience welcoming and accessible to a broad ethnic spectrum of families and kids. I continue in my conviction that what brings glory to God is when His children in all their ethnic diversity come together in genuine unity, gathered as a multiethnic/multicultural household of God.
I am privileged to work with the Directors' Team at Inter-Varsity's Ontario Pioneer Camp, the oldest and largest of Inter-Varsity's nine camps across Canada. OPC directors and staff asked for intercultural training for themselves and the summer staff, who are university and college students. They've set out to create a culture of welcome, keeping in mind what it feels like to be newcomers, as staff or campers. I've challenged the staff to be "bridge-builders" across individual and cultural distinctives. I continued to relate with diverse ethnic church communities, to build church/Inter-Varsity camp & campus links. As well, the OPC community extended invitations broadly to new campers and camp staff.
Even in June, at OPC's Pre-Camp, when the summer camp staff gather, receive training, and build their teams, I could sense that God was giving us noticeable multiethnic/multicultural growth. It made my day to learn that our Canadian and International staff are characterized by the cultures of Jamaica, Korea, Nigeria, Brazil, Taiwan, England, Japan, Zambia, Egypt, US, India, Ukraine, Scotland, Ireland…
<![if !vml]>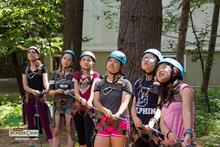 <![endif]><![if !vml]>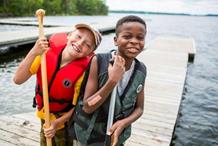 <![endif]><![if !vml]>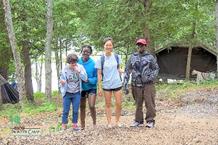 <![endif]>Jeno Guest, OPC's Program Director that I work closely with, emailed me news from OPC's Session 1: "Dear Friend, first chance I have had to write. I just wanted to say that if you had been here on Sunday when campers were arriving, you would have been so happy. There is a truly growing ethnic diversity both in the staff and camper populations. What a joy to see!!"
I INVITE YOUR SUPPORT!
Please pray.
August means that we still have 4 weeks left in Ontario Pioneer Camp's Summer Program.
<![if !supportLists]> <![endif]>Pray for good health, safety and fun in activities and learning, for both campers and staff.
<![if !supportLists]> <![endif]>Pray that campers will experience God's love for them, responding in faith and obedience.
<![if !supportLists]> <![endif]>Especially pray for our campers from China, not only that they have good Canadian experiences, but also experiences of the reality of our Creator God and His Son, the Lord Jesus.
<![if !supportLists]> <![endif]>Pray for me on Sunday, Aug. 20th, as I speak at Chapel Point, at Ontario Pioneer Camp.
---
Mary Jane Fandrich August 3
Got across the border, and then got stuck in Cincinnati for six hours while Delta replaced a disabled plane. That was a very bad day for air travel apparently. Everything into Boston and New York was cancelled so people were milling around everywhere besides those of us stranded waiting to get to Orlando.
Oh well, but now it's sunny and humid down here, and the first 24 hours have been spent mostly asleep making up for some hectic weeks.
---
Gord and Brenda Nickerson August 3